Windows 7 just had its first birthday, and Windows Live Wave 4 was fully released not long ago, but the Windows and Windows Live division at Microsoft had already started its planning stages for the upcoming Windows 8 and Windows Live Wave 5, due to be released sometime in 2012. Neowin.net recently posted (and pulled) some leaked Windows 8 planning PowerPoint slides which shed some light into what to expect with the upcoming Windows operating system as well as Windows Live. While Neowin pulled the slides shortly after posting, thanks to Bing cache, we were able to retrieve the leaked screenshot from the cached page: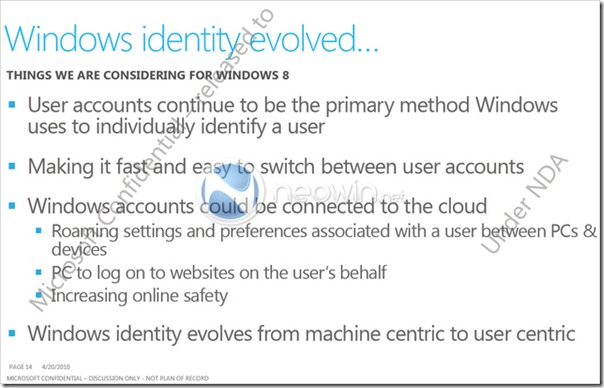 From the slide above, you can see that Microsoft is planning to integrate Windows accounts with Windows Live IDs such that all your Windows and application settings can be roamed between PCs and devices (perhaps Windows Phones?). Not only this, but Microsoft is also planning some sort of single sign-on solution which will log on to (Windows Live as well as other) websites on the user's behalf based on their Windows account. In fact, Microsoft has already posted job listings looking for developers to work on integrating Windows Live's Cloud Directory Platform with Windows 8.
The idea of integrating identity between PC and the cloud is not new. Windows 7 already supports users to link their Windows Live ID to their Windows 7 user account, however the linkage doesn't offer much at the moment. Windows Live Family Safety also rely on associating the child's Windows Live ID with their local Windows account to allow parents to remotely limit their access to websites, contacts, applications and games. In addition, with the new Windows Phone 7, a Windows Live ID is also an integral and essential part of the phone with almost all of the phone's contents being linked to a Windows Live ID account (which also drives Xbox LIVE and Zune accounts). We can see that this idea has already been partially implemented in Microsoft's products and services.
Let's also not forget that currently Windows Live Mesh already offers roaming of settings and preferences for Internet Explorer and Microsoft Office (ironically, settings for their own Windows Live applications are not roamed). Will Windows 8 and Windows Live Wave 5 take this to a whole new level, allowing users to roam all of their settings between PCs and devices, and providing APIs to developers to roam third-party application settings as well? We can definitely see some transformation coming to the way we use our PCs in the years ahead!
Update: Actually, the screenshots originated from Microsoft Kitchen back in July. Also, remember that none of these information have been confirmed by Microsoft and all the details are currently in planning stages, so take this news with a grain of salt.