In an email to employees today, CEO Steve Ballmer has announced that Chief Software Architect Ray Ozzie is leaving Microsoft:
…Ray and I are announcing today Ray's intention to step down from his role as chief software architect. He will remain with the company as he transitions the teams and ongoing strategic projects within his organization – bringing the great innovations and great innovators he's assembled into the groups driving our business. Following the natural transition time with his teams but before he retires from Microsoft, Ray will be focusing his efforts in the broader area of entertainment where Microsoft has many ongoing investments. We have tremendous opportunities in the entertainment space overall, and I'm excited about what we can accomplish. Beyond that, Ray has no plans at this time. While he'll continue to report to me during the transition, the CSA role was unique and I won't refill the role after Ray's departure. We have a strong planning process, strong technical leaders in each business group and strong innovation heading to the market.
As you know, we've been following Ray Ozzie's work with Live Mesh, and then with Azure, for a long time, and were honored to meet him on 2 occasions, at Mix 08 and at PDC 08, .  We also a long time ago called for Ozzie to take a more prominent public role in promoting the cloud and Windows Live, something that never happened.  We still feel that a "front-man" for consumer/cloud/live services is needed, maybe not as Chief Software Architect (maybe Chief Cloud Officer? – now there's a title!).  Here's a picture we took of Ray Ozzie and Long Zheng, at PDC 08: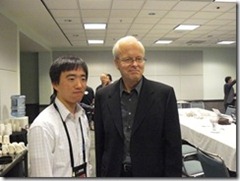 Anyway, we haven't heard much from Ozzie recently (and indeed rumors of his departure have been swirling around for months), but Microsoft needs more Ray Ozzie types, not less, and we're sorry to see him go.