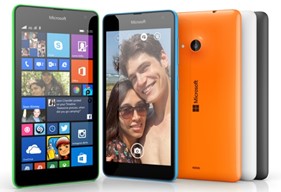 Microsoft unveiled its first Microsoft branded Lumia phones tonight, the Lumia 535 and a dual SIM equivalent, the Lumia 535 Dual SIM. The phones follow along with Lumia's attraction to the lower end of the market, offering an affordable phone with an "estimated retail price will be around 110 euros before taxes and subsidies". There is no word at this point where Microsoft plans to sell the phones, it's only saying in the press release that it will "begin rolling out to key markets in November". Microsoft teased the release on the Lumia Conversations blog late last week, and there was speculation that we may be seeing a successor to the Lumia 1320 as well, but that doesn't appear to be the case. On to the particulars of the first real "Microsoft Lumia":
The Lumia 535 features a 5″ display (qHD – 960 x 540 px) with IPS LCD technology, a 5MP main camera and another 5MP wide angle ("selfie") front-facing camera, a quad-core 1.2GHz Snapdragon 200 processor, 1GB RAM, 8GB onboard memory with a MicroSD card for up to 128GB more, a 1905mAh battery with 11 hours talk time, and is running Windows Phone 8.1 "Denim" (full specs). There is no wireless charging.
Microsoft is promoting the phones with a "5x5x5" tagline, according to the press release:
"Lumia 535 comes with our '5x5x5' proposition," said Jo Harlow, corporate vice president for Phones at Microsoft. "Innovation should be available to everyone, and we are doing this through the very best integrated Microsoft services included and out of the box, a 5MP wide-angle front-facing camera, and a spacious 5-inch qHD screen — all at an affordable price."
Microsoft is also touting its 5 services: Skype, Office, OneDrive, Cortana, and OneNote as part of the 5x5x5 equation, although all Lumias come with those services and you can get everything but Cortana (so far) on iOS or Android. Still, it's good to see Microsoft promote its ecosystem as something of a coherent whole, even if it isn't behind a walled garden.
You can learn more about the Microsoft Lumia 535 from these sources:
Hands On Video from Lumia Conversations blog
Official Microsoft Lumia 535 page
All in all, while it's not the flagship some of us have been hoping for, this is a well featured phone for a good price, and we'll be interested to see how Microsoft markets it, and how it sells. Would you buy one?