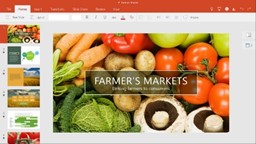 Since Microsoft first introduced Office for the iPad last March, it's been downloaded some 40 million times, even with the restrictions of needing an Office 365 subscription to use it. Today, Microsoft announced that Office will soon be coming to Android tablets, too, and that the iOS apps for both iPhone and iPad are being updated. Along with that, Microsoft is promising "new, touch-optimized Office apps for Windows 10".
In addition, Microsoft is dropping the requirement for an Office 365 subscription for most use cases on iOS and Android. Up until now, users on those competing platforms were required to have an Office 365 subscription to do all but the most basic operations like viewing documents and cut and paste between them. Now, users will be able to use Office 365 on these devices essentially free, with the ability to create, edit documents, and even save them to Dropbox using the recently announced Dropbox integration. You'll still need an Office 365 subscription to use these devices with OneDrive, or OneDrive for Business storage. Of course the over 7 million users with Office 365 subscriptions will still get the full benefits of Office on iOS or Android.
Microsoft initially required an existing Office 365 subscription to use Office on iOS as perhaps the only way around Apple's strict requirements for access into its Store, otherwise Apple would have required a 30% cut of each Office 365 subscription sold to potential iOS users. Now it appears that it is more important for Microsoft to get and keep as many users on Office as they can, regardless of whether they pay or not.
The Office Blog also promises more news soon about a more touch friendly Office coming to Windows 10. Microsoft released a version of Office, "Office 2013 RT", built in to Windows RT tablets like the Surface RT and Surface 2, but has yet to release a fully touch enabled Office. Now it looks like Microsoft may finally be ready to talk about what's coming next for Office on Windows.