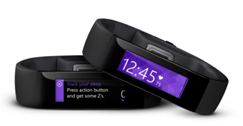 Microsoft took the wraps off its latest devices and services tonight, a few hours early after apparently breaking its own embargo, announcing not only the Microsoft Band, a wearable fitness device with 10 types of sensors to monitor everything from heart rate to GPS location, but also Microsoft Health, a cloud based service "that helps you live healthier":
Microsoft Health is a cloud-based service that helps you live healthier by providing actionable insights based on data gathered from the fitness devices and apps that you use every day. Activity-tracking devices like the new Microsoft Band, smart watches, and mobile phones plus services like RunKeeper or MyFitnessPal connect easily to Microsoft Health. Using this fitness data and our Intelligence Engine in the cloud, Microsoft Health provides valuable, personal insights so you can reach your fitness goals.
While rumors of Microsoft's entry into the "wearables" space have been around for some time (Paul Thurrott first wrote about a Microsoft wearable back in July, nailing the form factor, its cross platform capabilities, and the fitness tie-in), today's announcements bring a few surprises: first, that it's available now (ok, in limited quantities, and US only for the moment), that it's priced lower than most if not all of the competition (at $199), and that it's part of what appears to be a well thought out Health platform that puts your health first and walled gardens somewhere down the list.
That's not to say that Microsoft hasn't built in some "better together" aspects of the Band. Although you can pair your Band with Android or Apple devices through apps, With a Windows Phone, you'll also be able to use the built in microphone to take notes and/or set reminders through Cortana.
Microsoft isn't exactly new to the health/fitness space, it's been running Microsoft HealthVault, a way to securely store and share your health information via the cloud, for years. With Microsoft Band and Microsoft Health, though, the company appears poised to bring "healthier living" to a lot more people, at an affordable price, in a way that won't lock you into a certain device or devices. Or you could just pick up a Band to check the time, your email, and your route from the coffee shop to the donut shop to the bar, ignoring perhaps all the alarms that might set off!
We're eager to try out Microsoft Band and Microsoft Health, and hope to have one in our hands (or more correctly, on our wrists) soon. Are you looking forward to Microsoft Band and Microsoft Health?