Microsoft's online apps are sporting a bit of a new look today with a new app switcher for Office Online and the Outlook.com Mail, People, Calendar, and OneDrive apps. The new switcher resides in the upper left corner of the online headers, providing a consistent and convenient place for app switching while taking up far less real estate than in previous versions. The familiar square tiles are still in evidence once you open the switcher, but they're confined to a small box, in two rows, instead of lined up across the header: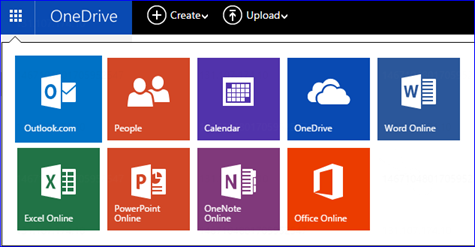 Once you've opened a document in Office Online, it's easy to "click to switch" from the online app to a full version of Office on your desktop (or even your iPad or your phone), according to a post today on the Office Blog:
Office 365 subscribers also get Office apps for their devices, like the new and popular Office iPad apps. The click to switch method works on iPad too. Let's say you tap a document link in email and Word Online launches in the Safari browser. To make the most of your touch device, tap Open in Word in the ribbon and presto—you're editing the same document in the Word for iPad app. This same technique works on your phone too, when viewing a document using your mobile browser your can easily switch to the Office Mobile app.
What do you think? Do you like the new look? Is it easier for you, and perhaps more importantly for Microsoft, will it make you more likely to use more Online Apps?