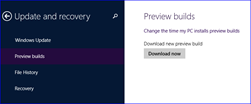 Less than a month (three weeks, actually) after Windows 10 Tech Preview was first made available to "Windows Insiders" (read: anyone who signed up, over a million at last count), Microsoft today released a new build of the Tech Preview, Build 9860. According to a post on the Window Blog, the new build contains a few regressions, but also some new "fun stuff", including an early look at the new Action Center (think Notification Center from your Windows Phone, on Windows!), a new animation for switching between desktops, and an easy way to move apps from one monitor to another, using keyboard shortcuts (WIN+SHIFT+<arrow>).
The regressions include changes that make it temporarily harder to join a Wi-Fi network, some issues with machines not returning to sleep properly, a blue screen when unlocking dual external monitors using Display Link, and problems with Microsoft Solitaire and Mahjong (oh no!).
Your machine should be updated automatically, but you can fire it up yourself by going to PC Settings>Update and recovery>Preview builds>Check now if you can't wait. Let us know if you've had any issues with this latest build, and good luck!