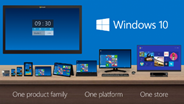 Today, at a press event in San Francisco, Microsoft unveiled a first look at its latest Windows version, and revealed that it will be called, not Windows 9, as was widely assumed, but Windows 10. The new version, available as early as tomorrow via a Windows Insider program in a still unfinished technical preview, at preview.windows.com, seeks to continue to involve Windows as a touch friendly platform while keeping desktop/mouse/keyboard users happy. Windows 10 will also serve as a common core of an operating system running devices from "4 to 80 inches". In a question and answer session after the event, Microsoft confirmed that Windows 10 will be the next version of Windows Phone's operating system, too. Windows 10 will also apparently run (and be a replacement for) Windows RT devices. Again, in the question and answer session, Microsoft hinted at a bright future for current RT devices (via The Verge):
Q: What happens to ARM-based Surfaces?

A: We're building Windows 10 to support the apps that are out there already. We're committed to keeping those apps running. On second Q, we're building the software to update vast majority of devices out there. Our general intent is to make this available as an update for the vast majority of devices.
In a number of ways, Windows 10 is a natural evolution down the path it started on with Windows Vista and especially Windows 7: a modern, modular system developed to run all types of devices while maintaining a common core. Windows 8 addressed a first attempt at moving Windows into a touch centric world, and Windows RT tried to cross Windows over on to ARM devices, with limited success. At the same time, but at the time on a completely separate track, Windows Phone helped to evolve the Modern/Metro design language, and perform well on devices where power consumption/battery life is as important as security or ease of use. All of these various products, Windows 7, Windows 8, Windows RT, and Windows Phone OS, moved the process forward, but they were all separated by not only technical constraints but by corporate politics as well.
By removing Steven Sinofsky and later Steve Ballmer, modernizing the organization, blurring the lines between consumer and enterprise, and mobile and desktop, Microsoft appears to be, indeed, at the Threshold of an entirely new way of developing Windows. It is apparently trying to signal just that by jumping a version and naming this new product Windows 10, but of course we're still a long way from knowing if Windows 10 will fulfill that dream.
While Microsoft did not webcast the event (in effect filtering all news coming out of the event through Tom Warren at The Verge, and Twitter), they have just issued a press release recapping the news, highlighting what you'll be able to get your hands on in the preview:
The early technical preview of Windows 10 demonstrates new levels of flexibility, navigation and familiarity through the Windows experience. Features include these:

Expanded Start menu. The familiar Start menu is back, providing quick one-click access to the functions and files that people use most, and it includes a new space to personalize with favorite apps, programs, people and websites.

Apps that run in a window. Apps from the Windows Store now open in the same format that desktop programs do. They can be resized and moved around, and have title bars at the top allowing users to maximize, minimize and close with a click.

Snap enhancements. Working in multiple apps at once is easier and more intuitive with snap improvements. A new quadrant layout allows up to four apps to be snapped on the same screen. Windows will also show other apps and programs running for additional snapping, and it will even make smart suggestions on filling available screen space with other open apps.

New Task view button. The new Task view button on the task bar enables one view for all open apps and files, allowing for quick switching and one-touch access to any desktop created.

Multiple desktops. Instead of too many apps and files overlapping on a single desktop, it's easy to create and switch between distinct desktops for different purposes and projects — whether for work or personal use.
There's also an official blog post highlighting Windows 10, featuring Joe Belfiore describing the preview and showing off some of its features.
We're hoping that Microsoft releases a video of the event, but the first technical preview will soon be available, and we're looking forward to playing with it. Microsoft released a vague timeline for Windows 10, beginning with the preview, and promising the unveiling of consumer features in early 2015, developer features, coming at Build in April, and the release of Windows 10 sometime mid-year.