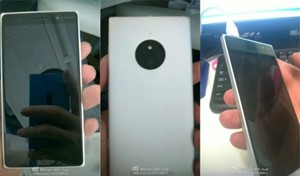 This has been an interesting year so far for Windows Phone. In some ways, it's been quite disappointing, as Microsoft's mobile ecosystem has failed to gain ground in the marketplace (enough so that Microsoft executives are now talking about "making the market" for Windows Phone), and no new hero devices have been released to spark any meaningful interest against a tidal wave of Apple and Android love. In other ways, however, it has already been a monumental year for Windows Phone, even without new flagship devices. Microsoft finished its acquisition of Nokia's phones businesses, for one, and more surprisingly then quickly axed both the Android powered Nokia X project, and the entry level Asha phones line. Microsoft, it seems, is willing to get into the mobile hardware business, but only if it can sell Windows in the process.
This is quite a departure from Microsoft's usual hemming and hawing over big decisions. New CEO Satya Nadella didn't waste any time making bold and significant cuts into an acquisition that he initially opposed back before he took over the top job. In cutting Nokia X, and especially Asha, Nadella has laid out a more narrow path toward a future where Windows Phone might just stand a chance. But Microsoft, more than cutting costs or non-essential programs, has to ship phones, and according to a post on The Verge today, they're about to do just that.
Tom Warren reports that Stephen Elop, Executive Vice President of the Microsoft Devices Group, just this week showed off two new Windows Phones during an "internal company meeting". The two new devices, one a "selfie" phone, code named Superman, comes with a 4.7″ display, and a 5Mpx forward facing camera.
The other phone, the previously leaked "Tesla", is a PureView phone, according to The Verge:
The second handset is codenamed "Tesla," and recently appeared in leaked images. Elop described the Tesla handset as an "affordable high-end phone" with a PureView camera. Tesla will likely debut as a Lumia 720 replacement, and it mark a new effort by Microsoft to push PureView down to even lower price points. The handset looks similar to the squared Lumia 930, but we understand it will be thinner and less bulky.
The Verge is suggesting that launch of these two new devices is "imminent", and falls in line with the upcoming release of a developer preview of Windows Phone 8.1 Update 1. It also appears to be keeping pace with the expected launch of a Windows Phone variety of HTC's popular One M8 phone, which according to WPCentral will be hitting shelves at AT&T Verizon on August 21st.
Microsoft appears ready to finally start making a new push with Windows Phone, but it certainly faces an uphill battle against Android and the onslaught of the iPhone 6. However the company is probably in better position than ever to compete. Microsoft is beginning to push Cortana as a differentiator, and we should start to see it roll out more widely soon. The Nokia acquisition is complete, and the company has made quick work of cutting out the distractions and focusing entirely on Windows Phone. Stephen Elop, who if nothing else has lots of experience in running Nokia's phones businesses, is well in control with an experienced and mostly intact staff coming with him from Nokia. Microsoft is even making some slight progress with apps, cajoling FitBit and Uber to release Windows Phone versions of their apps.
Still, it IS an uphill battle, as we know. Those app wins have been mostly short lived, as releasing an app for Windows Phone is one thing, but keeping it updated another thing entirely. Android continues to steamroll, Apple is deftly building its iPhone 6 launch to a crescendo, as only Apple can, and Microsoft's promise of a (sort of) unified OS with app development for the phone, tablet, and PC all rolled into one is still a long ways off. Cortana, for all of its appeal and favorable comparison to Siri, still has a long way to go to catch Google Now, and Microsoft's services, with the exception of Office, all trail Google's in comparison and popularity.
Is this the beginning of a new era for Windows Phone, with Microsoft leading the hardware as well as the software charge, using "platform and productivity" to push its services and drive both Windows Phone sales and Microsoft's ecosystem along with it? Or has Microsoft allowed Android too big a lead, and let Apple push it around in the consumer space. What do you expect for Windows Phone?