It was bound to happen. The little used and almost never promoted but very useful Windows Live service, Admin Center (it started its life as Custom Domains, and was renamed back in November of 2007), is finally reaching end of life. The service, which allowed users to create Hotmail (Outlook.com) email accounts for their own custom domains (we use it here, and all of our @liveside.net addresses are managed by WL Admin Center), is now closed to new users, according to a message on the domains.live.com home page: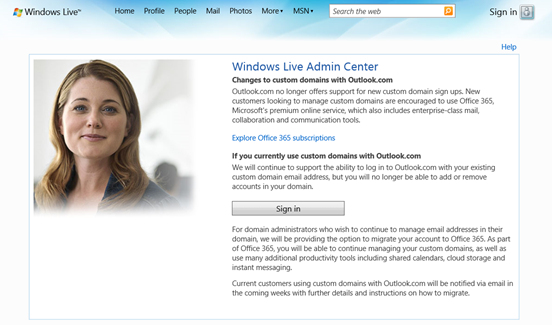 Instead, new users are encouraged to sign up for an Office 365 account, like Office 365 Home Premium, Office 365 for Business, or even perhaps the soon to be released Office 365 Personal, which offer a lot more functionality than the Admin Center, but don't offer unlimited creation of free Outlook.com accounts under a custom domain.
Aside from being a bit of a trip down memory lane with the Windows Live Wave 3 header, the Admin center didn't offer much in the way of management, other than to be able to create and/or delete email accounts for custom domains, it was truly a "set it and forget it" type of service.
(via Ed Bott)