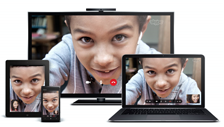 Ever since Microsoft announced the deal to acquire Skype back in May of 2011 (closing the deal in October of that year), updates to Skype have fallen into the Microsoft cadence: that is – slow. While there has been undoubtedly an immense amount of work done on the back end to bring Skype's original peer to peer back end onto a more Microsoft-centric platform, users have continued to experience basic problems with the voice, video and chat messaging experience. One of the most frustrating of those has been the lack of a working sync capability, and Skype users have been enduring a number of sync issues when moving from one Skype enabled device to another. That appears to be changing, however.
Today, in a blog post on the Skype blog, Microsoft is "excited to share news" on a range of enhancements to Skype, including the sync experience:
We've been working hard to solve these issues while adding other experiences to make an improved Skype chat. Now, push notifications make sure you know when you have a new message in chat, and Skype chats are synced across all of your Skype-enabled devices. You can scroll back on your mobile phone to see the conversation you had on your laptop just as easily as the chat you had with your best friend on your smartphone about a recipe.

We also understand the importance of knowing that messages you send have been delivered and that you receive all of the messages sent to you. Now you can have peace of mind that your friends will receive messages even if they're not on Skype at the time you hit "send," and, if you've read a Skype message on your phone, it'll show as "read" when you check your messages on your laptop later in the evening.
The post goes on to promise more enhancements "in the coming months", including a roaming Favorites list which will sync across devices, and the ability for notifications to appear only on the device you're actively using. The current updates also include fixes and improvements to more than just sync:
(W)e've continued to optimize our overall mobile performance, so you'll also see improvements to battery life, startup times, and resume times. We've improved load times for the app and for recent conversations; in addition, it's now faster to return to the app when it's not running in the foreground as well as faster to start up, allowing you to chat all day every day without the fear of unwanted battery drain.
Your current Skype apps should be updating, if they haven't already, or you can download Skype for your devices from Skype.com