Microsoft today announces the SkyDrive will become OneDrive. OneDrive.com preview site is available and titled "OneDrive is coming soon". Users can sign up on the OneDrive site to be first to know when OneDrive is rolled out. And don't forget to watch the OneDrive promotional video here.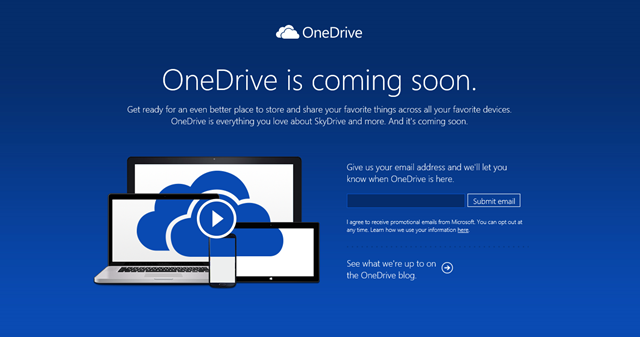 Microsoft confirms in the new OneDrive blog:
For current users of either SkyDrive or SkyDrive Pro, you're all set. The service will continue to operate as you expect and all of your content will be available on OneDrive and OneDrive for Business respectively as the new name is rolled out across the portfolio.
Last year, Microsoft said it would rename SkyDrive following the loss of a trademark case with BSkyB, which owns trademark rights to "Sky" in the EU.
Source: OneDrive blog