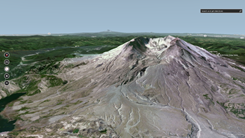 Today on the Bing Search blog, Microsoft announced the availability of a preview of the new Bing Maps experience, the Bing Maps Preview, and you can download Bing Maps Preview from the Windows Store today for your Windows 8.1 devices. Microsoft showed off some features of the new Bing Maps at Build this past June, and now you can get your hands on it for the first time. While there's much more to come, this is a preview, with only limited representations of what's to come:
To ensure we have the highest quality imagery possible, we're showcasing a focused list of over 70 cities from around the world so you can get a glimpse of what's to come.
The new maps experience is fully 3-D, and incorporates Streetside imagery for an all-in-one experience. Microsoft has gone all out to build an immersive 3D experience:
We have assembled world builders from the video game industry, expert photogrammetrists, high definition aerial cameras and a massive data pipeline crunching petabytes of imagery to deliver a more natural way to experience our planet.  With advances in Windows, in computing hardware and our ability to capture, process and render imagery, our automated pipeline is capable of pushing pixels from a plane to the app in a matter of weeks and has already processed over 121 trillion pixels to date in order to build our 3D environment.
The last time we encountered Streetside, it was, frankly, a mess. In May of 2011, Microsoft introduced a new version of Streetside, using Microsoft Research's "Street Slide" technology. While some of the navigation was improved, and allowed for more seamless integration with overlays of business listings, etc., the imagery was somewhat poorly stitched together, making for a jarring experience. All that is gone now, and the new Streetside is more similar to earlier versions, with a seamless set of photographs taken from Bing Maps camera enabled cars that allow for 360 degree views of wherever you're looking.
At first glance, however, the navigation within Streetside still needs some work. In order to get in to Streetside view, you must first find and click on a "Bubble", Bing Maps Preview's way of showing a bit of the Streetside imagery from a flat or 3D map: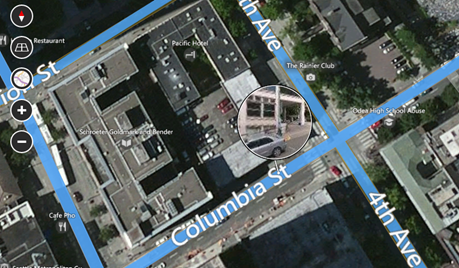 Once you double click on that bubble, you're in (clicking on a blue line, however, just increases the zoom level without entering Streetside view). From there, you can pan or zoom around the imagery, and move forward by clicking on the < or > arrows in the view for an incremental increase in movement (clicking far ahead in the view does not advance your view like it did in the older versions of Streetside), or by opening up the split view and dragging the map to a new location: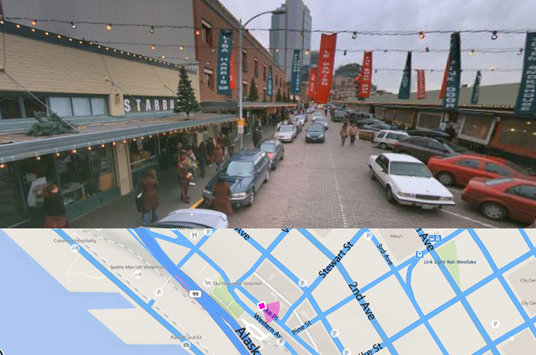 Of course all of the navigation is very touch friendly, and works well on a Surface or other Windows 8.1 powered touch device.
Microsoft has built in a number of other new features to the Bing Maps Preview, including Favorites, with an ability to save a favorite route and have Bing Maps check on and report traffic conditions during specific times of the day, and the inclusion of Local Scout information and in-map searching, allowing you to not only find a location, but get directions to it instantly. Using Microsoft's Satori technology, Bing Maps Preview is also showcasing the ability to more than just look at maps from within the app:
Our goal isn't just to get you from point A to point B. With the app we're creating a digital replica of the real world so you can discover new places and get things done. The preview app includes basic actions like make a call or book a table; actions that will get richer over time through integration with Satori, Bing's huge index of entities.

Local Scout allows you to find nearby places to dine, shop, park and with "picks for you" even get personal recommendations when you're signed in, based on what you've been searching for, what your Facebook friends enjoy and what's popular in the area.
Overall, while Bing Maps Preview is a preview after all, this is the most complete and comprehensive mapping product Microsoft has produced, maybe ever. Everything is available all in one place, from immersive 3D imagery to close up Streetside views, to search and Local Scout information, to much more.