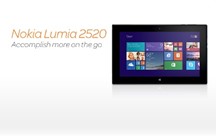 November 22nd is, of course, Xbox One day, and Microsoft is planning events around the globe for the release of its first entirely new gaming console since the Xbox 360 was launched 8 years ago almost to the day. With today's launch of the Sony PS4, next week will set up as the beginning of what should prove to be a long and very interesting console battle of the titans, as Microsoft and Sony continue to duke it out for gaming console supremacy.
But November 22nd is shaping up to be quite a day for non-gamers, as well. AT&T has already announced that the Nokia Lumia 1520 will go on sale on the 22nd, and Nokia and AT&T announced today that Nokia's first tablet, the 10.1″ Windows RT LTE device will go on sale also on November 22nd in the US, for $399 with a new 2 year contract, or even cheaper at $199 when bundled with a new Nokia phone (either a Lumia 925, 1020, or the 1520). You can check out a quick overview of the Nokia Lumia 2520 in this AT&T "Mobile Minute"
[youtube_video] SQainp_XTus[/youtube_video]
AT&T is offering for a limited time a $20 voucher for the Windows Store as part of its 2520 promotion, and is also offering a "no down payment, no upgrade fee and no activation fee at $25 monthly installments for the device, with no financing fees" option. You can read more about the Nokia Lumia 2520 at AT&T from their press release, or from the Nokia Conversations blog post.