Thanks to sharp-eyed @MichaelGillett, we were just able to download and install the new *official* Facebook app for Windows 8.1, which apparently just went live a few moments ago (at just after 11pm PDT on October 16th here in Seattle).
Before you run off to try and download (we found the app featured on the front page of the Windows Store), you're going to need the full RTM version of Windows 8.1 (we have it running here thanks to MSDN), so for most of you, you'll have to wait for another day or so until 8.1 becomes available on the 18th.
Even so, it's good to see the official app, which has been missing from Windows 8/8.1 up until now, go live. The app looks and feels pretty much like you expect it to: blocky and big like a Windows 8 app should be, but not quite as "out there" as the Vibe app (as visually pleasing as that app can be):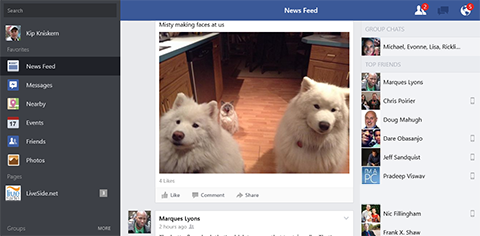 (hopefully Frank Shaw isn't upset I posted his picture!)
If you have Windows 8.1 RTM installed, you should be able to grab the new Facebook app for yourself, otherwise, consider it another reason to look forward to the 18th!