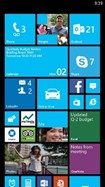 Only a week after US AT&T Windows Phone users received their "GDR2" update, Microsoft today announced the availability of "Update 3", available "in the coming months" to current Windows Phone 8 users and soon to be available on new Windows Phones, including ones with larger 5″ or 6″ screens, and Snapdragon 800 cpus. In addition, Microsoft announced the long awaited Windows Phone Developer program, allowing developers (and enthusiasts, if they're willing to jump through a few hoops) early access to Update 3, and presumably to future updates, as well.
According to a blog post today on the Windows Phone Blog, Update 3 brings a number of new features to Windows Phone, including:
Support for 5 and 6″ screens, with 6 small tiles fitting across the screen
Support for the Qualcomm Snapdragon 800 quad core processor
Driving Mode:
"A new feature called Driving Mode helps you get from point A to point B with fewer distractions. Working with a connected Bluetooth device, Driving Mode is designed to limit notifications on the lock screen—including texts, calls, and quick status alerts—until you're safely parked. You can even configure Driving Mode to send automatic replies to people who call or text when you're behind the wheel, to let them know you'll get back to them."
Mobile Accessibility for Windows Phone – a suite of apps making Windows Phone easier to use for blind and visually impaired users
Improvements to Internet Sharing, allowing a Windows 8 device (like a Surface) to turn on sharing over BlueTooth
Expanded Custom Ringtones, for IM, email, voicemail, and text, and for text contacts
Rotation locking
Better storage management
Close apps via the App Switcher
Wi-Fi access setup in the Out Of the Box experience
BlueTooth improvements
No word on a Notification Center, or individual volume controls for the phone ringer, two glaring omissions missing from Windows Phone, but still a good list of improvements.
One improvement that Windows Phone Developers and enthusiasts have been waiting for is the Developer Preview Program, detailed on the Windows Phone Developer Blog:
Windows Phone Preview for Developers gives you, our developer community, access to prerelease builds of Windows Phone updates on your dev phone before operating system updates generally are available to consumers. With the update in hand early, we hope that you can use the time to exercise your code on the update and verify that your app works as you expect. If you find issues, you can fix your app and get an update into the Store before your customers get the OS update.
To get into the Developer Preview Program, you'll need to either have a Windows Phone Dev Center subscription or join, for $19/ per year (it's free if you're a DreamSpark student). After that, there are a few caveats:
Microsoft only updates their portion of your phone – any firmware or driver updates coming from your carrier or the OEM will have to wait until you receive the official update
Once you've updated, you can't roll the phone back to its previous state, it's a one way street.
"You may void any warranty from your MO and OEM". Microsoft is providing a preview program support forum for any problems
Will you jump in and join the preview program to get your Windows Phone updated early?
(Updated note:  WMPU has a nice step by step on how to get the update on your phone, including using Windows Phone App Studio access and getting the updates for free instead of $19 /year)