Whilst Microsoft's Bing team have made minor tweaks and pilot tests here and there to their Bing Video search service, this search vertical hasn't received any significant update since 2012. However, today the Bing team announced that they have released a brand new video search experience that was "designed from the ground up". Below is what the new Bing Video search experience looks like: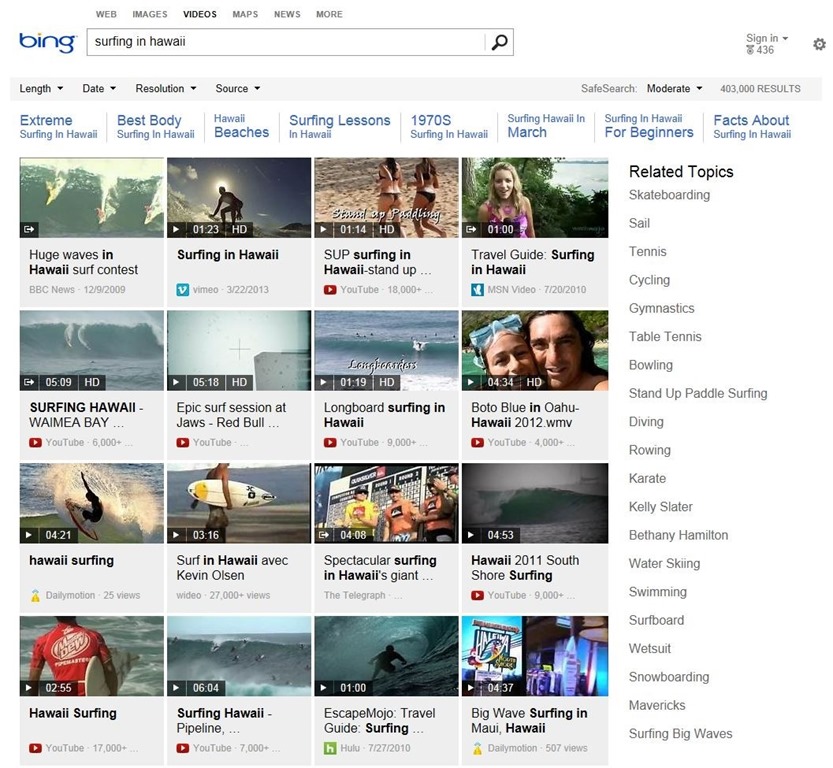 According to the Bing Blogs, below are some of the new enhancements in this new video search experience:
High resolution pop-up hover previews: The new pop-up hover video previews in the search results are now larger and in higher resolution than before. In addition,  the information displayed about video is also expanded, allowing users to find the video they want faster. These include the addition of favicons from the top sites, view counts, descriptions, and your search terms are bolded in the titles. Furthermore, a control is added to the previews for users to adjust the volume level of the preview playback.
Improved Filters: Whilst Bing Video search always had filters, this has been improved in the new version. The "Resolution" filter has been improved to include common 720p and 1080p video size options, and the "Source" filter has also been improved to be more specific to the segment for which you are searching. Furthermore, the "Date" filter was added to let users easily find the latest (or oldest) videos.
Video Overlay and Improved Navigation: Once users have found the video they were searching for, a video overlay light-box, similar to Bing Image search, allow users to easily browse to the next video without having to leave the search collection. The new overlay also contains a related searches column so users can easily narrow down their search.
You can try out Bing Video search right now by visiting http://www.bing.com/videos