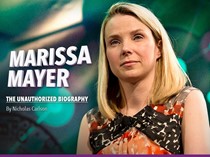 Business Insider posted what has to be their longest form post, ever, this morning, an "unauthorized Marissa Mayer biography", the story of how she came to become Yahoo!'s CEO. It's an excellent read, and an excellent job of reporting by Nicholas Carlson, complete with lots of insider info and background information on the events leading up to Mayer joining Yahoo!.
After former CEO Scott Thompson left the company in 2012 (a move engineered by activist investor Daniel Loeb due to some anomalies in Thompson's resume), Yahoo! appointed Ross Levinsohn as interim CEO, and was prepared to appoint him on a permanent basis. Levinsohn had already been planning on making a number of changes at Yahoo!, according to the Business Insider post, all pointed at recreating Yahoo! as a media and content company, moving away from its technology and product roots.
As part of that change, Business Insider reports, Levinsohn had a deal in place with Microsoft to trade Yahoo!'s search business for MSN.com, and presented the plan to Yahoo!'s Board of Directors as part of his pitch to become CEO:
Levinsohn told the board that, under his direction, Heckman had begun negotiating a deal with Microsoft to exchange Yahoo's search business for Microsoft's portal, MSN.com, and large payments in cash.
What Levinsohn didn't know was that the Board had already decided on Mayer as the new CEO, and it quickly became apparent during the presentation that things weren't going so well. Board member Michael Wolf grilled Levinsohn:
Wolf asked, in a loud voice with a sharp tone, "I understand why this is good for Microsoft, but why is it good for Yahoo?"
Even after Marissa Mayer "blew away" the Yahoo!'s Board with her own CEO presentation, and they hired her instead of Levinsohn, the plan was still active, and presented to Mayer. Jim Heckman, Levinsohn's "dealmaker", met with Mayer during her first few days at Yahoo!:
Heckman laid out the plan he and Levinsohn had been working on for the past year. If implemented it would have completely changed the way Yahoo did business.

…

He told Mayer that he'd negotiated a deal with Microsoft CEO Steve Ballmer, wherein Yahoo would turn over its entire search business — patents and all — in exchange for Microsoft's large online media property, MSN.com, and long-term, guaranteed cash payments.

Mayer heard him out, taking notes the whole time.

Within 24 hours, Mayer let Heckman know that she'd canceled all his deals and that his services were no longer needed by Yahoo.
While the deal didn't go through, of course, it's interesting to note how close Microsoft may have been to dealing away MSN.com, the third most visited property on the web, according to comScore (Yahoo! just retook the #1 spot from Google). In return, it would have strengthened Bing's deal with Yahoo!, which may or may not be in peril, especially now that Microsoft CEO Steve Ballmer has decided to retire, and there's just no telling what the next CEO of Microsoft (or Yahoo!'s Mayer, for that matter) will do.
Should Microsoft be looking to trade away some of its properties, including MSN.com, as it moves into its new, post-Ballmer phase? Would Microsoft have been better off if the deal had gone through?, or did Microsoft, as Ballmer said about when the deal to buy Yahoo! fell through, "dodge a bullet"? Should parts of Microsoft be on the trading block now that Ballmer is leaving? Which parts?