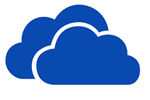 Over the past few months, we correctly predicted some of the new features that came as part of the recent major SkyDrive.com update. However, we mentioned that there are also a few more features that are yet to come, including recent activity feeds and folder mounting. But that is not all, as we understand that there are more changes and new features being developed, and one of these new features is the addition of a new permission level for SkyDrive folders – called "Co-owners".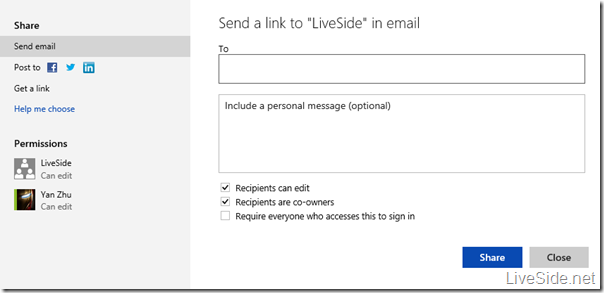 Existing sharing permissions allow users to grant recipients with either "view only" or "view and edit" access, the latter allow users to add, edit or delete files within the shared folder. However even with "view and edit" access, the recipient still does not own the folder, given the recipient is unable to grant other people access to your folder. With "Co-owners", which can be added when creating a new folder or via the sharing prompt similar to the screenshot shown above, the recipient will be able to view, add, edit, and delete files, as well as invite others to access the folder.
The "co-owners" permission also appears works a little differently from the existing permissions. Whilst "view only" and "view and edit" access is applicable to both files and folders, it appears that "co-owners" is applicable to folders only. In addition, "co-owners" cannot be granted to a folder if that folder is located inside a shared folder.
This new "co-owner" permission level, when combined with the folder mounting feature we reported earlier, means that a folder will soon be able to be owned, managed, and synced by more than one person. This is particularly important for collaboration work between users, but it may also solve the issue with certain apps (such as Windows Photo Gallery) only able to publish to folders that you own and not the ones that are shared with you. In fact, during the SkyDrive team's Reddit AMA session, Omar Shahine acknowledged this issue and indicated that it "could be improved", and we believe this new feature may just be the answer.
The exact release timeframe for this is currently unknown, and as always please be mindful that any of these plans or features may change before its final release. We understand that this is only one of the many new features that are yet to come to SkyDrive, so stay tuned at LiveSide as we bring you more exclusive news.