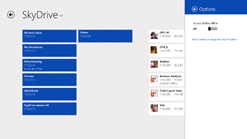 When Microsoft introduced Windows 8.1 at Build a few weeks ago, it also introduced a newly revamped version of SkyDrive that now ships as part of Windows 8.1. You no longer need to download a separate SkyDrive desktop app, it's just built in. And along with SkyDrive becoming just a native part of the OS, this new version comes with some significant changes that make SkyDrive easier to use on all kinds of devices, including tablets like the Surface RT.
A post this morning on the Inside SkyDrive blog goes back over the highlights of the new SkyDrive, and there are quite a few of them. The biggest change to SkyDrive is in introducing the concept of "placeholder" files, a new way of thinking about and dealing with the problem of what to sync to what device. Previously, in SkyDrive desktop, you were able to choose what files or folders were synced to each device, but it was a manual and somewhat laborious process, and you were left without any access (without going online and to your SkyDrive cloud storage) to files you had in the cloud but not on a particular device.
Now, when you install Windows 8.1 and log in with your Microsoft account, and choose to include SkyDrive, SkyDrive will download "placeholder", or thumbnail versions of your files, so while you will have access to the folder structure, file names, thumbnail views, and other properties of the files, they won't take up much space on your local hard drive: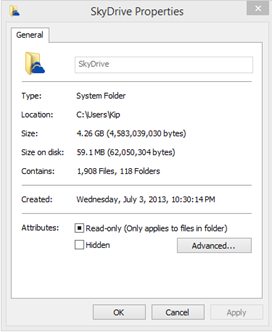 As you can see, in this case my SkyDrive folder in the cloud is 4.26 GB, but it's only taking up 59.1 MB on the local hard drive. That changes as you interact with your files, once you've opened a file, the full file will then be stored on your machine. SkyDrive will take up about 5% of the total cloud storage space on your hard drive if you haven't opened any files or marked them for offline access, so if you have 100 GB of SkyDrive storage online, it will only take up 5GB on a new device you've connected via Windows 8.1.
You can also choose files to include for offline access, so you don't have to go through and open up each file or folder you wish to include in your local storage. You can even choose your entire SkyDrive, if you've got plenty of local storage space and want complete copies of your SkyDrive files offline. Anytime you make edits to these local files, they'll be updated back to the cloud as long as you have internet access, or will wait until you do.
In the past, you were able to choose where to store the actual SkyDrive folder on your local computer, but this isn't possible with the current version. You'll have to make sure you have enough room in C:Users for SkyDrive.
This new SkyDrive is built in to Windows 8.1 in other ways, too. SkyDrive is a file location just like any other: you can save files from any Windows Store app to SkyDrive, or use the SkyDrive folder in Windows Explorer to drag and drop files and folders to and from the SkyDrive folder. Cloud sync is handled seamlessly, so you don't have to worry about uploading files later if you don't have internet access, SkyDrive will take care of that for you.
Have you been using SkyDrive on Windows 8.1? Are you satisfied with the improvements? What's the best thing about SkyDrive, and what is it lacking?