Today, Microsoft announced "major updates" to its OneNote apps for Android, iPhone, and iPad.   Bringing a consistent look across all devices (that is, bringing the Android and iOS apps up to par with Windows apps), the Ribbon to iPad, and syncing to Office 365 and SharePoint along with SkyDrive, the newly revised apps have been rewritten "on and almost entirely new code base", according to a blog post on the  Office News blog.
As you can see from these screenshots from the blog post, the OneNote for iPad app now brings full format rendering, including ink from Windows tablets, to the iPad: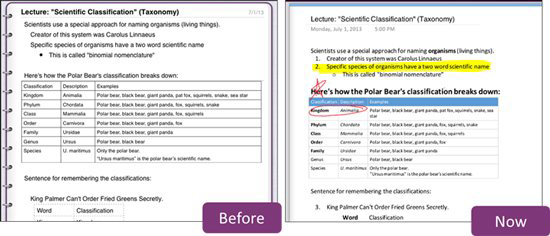 The apps are "currently" available for free with no limit on the number of notes you can create, another change from the previous version.  You can get all of the OneNote apps from www.onenote.com.