This morning Bing released a set of updates to their Windows 8 apps, including a new feature in News that lets you set RSS content as news sources to create your own customized News app.
Of course we had to try it out, as we're far too dependent on the soon to be shuttered Google Reader, and actively looking for replacements.  Well, there's good news and not so good news, as the Bing News Reader experiment shows promise, but doesn't quite make the cut, at least not yet.
We started out by updating and then opening the Bing News App in Windows 8, and scrolling right past the giant home page image to get to the customization.  You can not only add RSS feeds, but generally customize what shows up in your Bing News app, and can choose to show or remove the main categories: Top Stories, Sources (these are the RSS feeds), World, Technology and Science, Politics, Opinion, Business, Entertainment, and Sports.  You can use the Get Started pane, or remove it and scroll all the way to the right and customize through "Next Steps".
Adding RSS feeds is easy.  You can choose from a list of feeds that Bing provides, including most of the major news sources in a number of categories, or add your own.  One bit of confusion is that you must be in "Add a source tile" to actually add a feed you've chosen from Bing's list of feeds – if you're in "Browse our sources", there's no way to add a feed, although you can, of course, browse them.  To get to "Browse our sources", click on the "Sources" title at the top: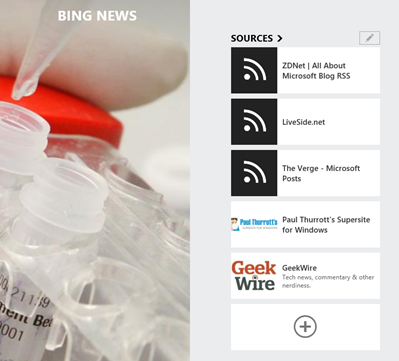 You can drag and drop sources from this screen or from the "edit" screen, or remove feeds from the edit screen.  To add feeds, you must first click on the "plus sign" at the bottom, and then you can either browse to feeds you want to add, or input your own:

Once you've added some feeds, you can check them out in Bing News.  Unfortunately, the "Sources" section, unlike the built in sections in Bing News, doesn't have any aggregation, so you need to click through to each feed to read the news: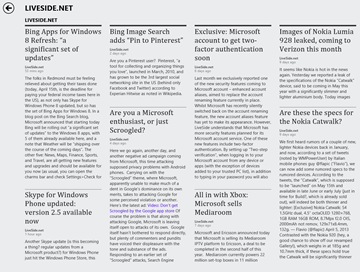 (By the way, we're not sure at this point why some feeds show logos and images, and some don't.  We're looking into it).
You can also Pin individual feeds to your Windows 8 Start Screen, just by swiping up or right clicking once you're in the body of the feed: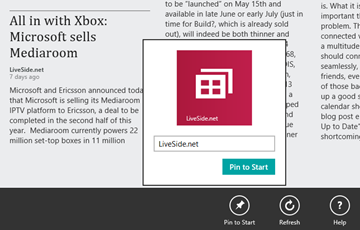 (Another aside: LiveSide.net is all set up for Windows 8, so you can browse to www.liveside.net in IE 10/Metro, swipe up/right click and Pin LiveSide.net to the Start Screen, and get our Jump List and a quick way to get to LiveSide.  You can also dock LiveSide using Snap View):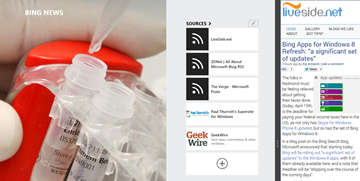 So while Bing News offers a quick way to add and view Sources via RSS, it doesn't offer any aggregation, makes it cryptic/impossible to add feeds while browsing, and is set up for adding and viewing only a small number of feeds, with no custom categorizations or minimized list views of feeds.
Still, it's a start, and if you're interested in catching up quickly on the latest from a small number of favorite feeds, Bing News offers a clean and beautiful way to do so in Windows 8.  Oh and one more thing, once you've set up your feeds on one of your Windows 8 devices, they're all synced up and ready for you on your other devices, perfect for setting up feeds on your desktop or laptop and grabbing your Surface as you head out the door!