Are you a Pinterest user? Pinterest, "a tool for collecting and organizing things you love", launched in March, 2010, and has grown to be the 3rd largest social networking site in the US (behind only Facebook and Twitter) according to Experian Hitwise as noted in Wikipedia. Now, according to a blog post on the Bing Search blog, it's even easier than ever to pin stuff to Pinterest, using Bing:
we're excited to introduce the "Pin to Pinterest" feature on Bing image search. Now, you can pin image results directly from Bing to your favorite Pinterest boards. . Whether you're gathering inspiration for a home decorating project, a Memorial Day BBQ, or a summer vacation, it's never been easier to find more pictures and keep track of the ones you love most. See something that catches your eye? Just one click and it's saved to your Pinterest board.

Pinning from Bing is designed to be as effortless as possible:

Simple and Lightweight: There's no need to install another bookmarklet in your browser, one click and you're good to go.

Link to Original Content: Bing automatically links and gives proper attribution to the original, high-resolution source, saving you the hassle of tracking it down yourself.

Powerful Search Tools: Take advantage of the full breadth of Bing image search tools like sorting and filtering by size, color, layout, and more. You can even do image search within a specific website, for example, see all "summer dresses" on Anthropologie.com.
It's pretty easy, just select an image from Bing Images, and use the "Pin It" button to pin the results to Pinterest: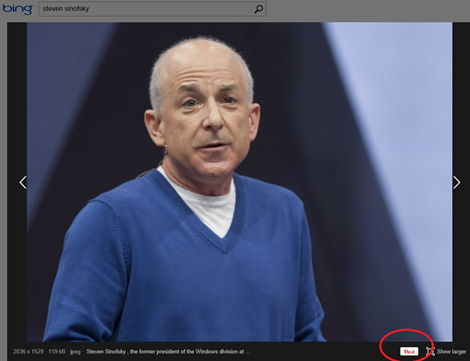 Do you use Pinterest? This is going to be a nice addition for those of you who do!