When Microsoft introduced the new Outlook.com last year, it brought the ability for users to rename their Microsoft account to a new one. In doing so, you'll bring everything associated with your account – like your emails, contacts, SkyDrive files, Xbox LIVE and Music Pass contents, and more – from your old account to your new one. Your old account becomes one of your "aliases" (so you can continue receiving emails from it), but you will no longer be able to sign in to it. Below is a screenshot of how it worked when it was introduced: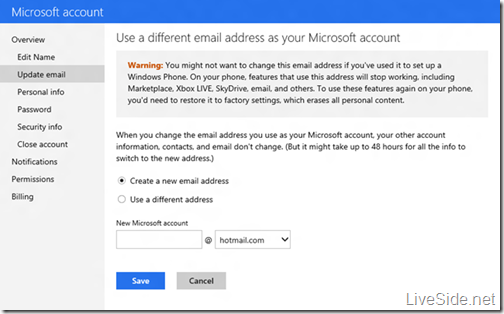 Unfortunately whilst it all sounds good on paper, some users found issues and glitches with the Microsoft account rename feature, including losing the ability to access their emails after renaming their account. As a precautionary measure, Microsoft took the step in December last year to disable the renaming feature whilst it investigates the problem and restore people's access to their emails. Below is an excerpt from Microsoft Answers forum moderator Tommy_P:
We are still actively working to resolve all issues associated with account rename and apologize for the delay. The rename option will be activated when we are confident that no further issues will arise.

Until we have rename up and running again, we recommend you create another email address to use with your existing account. This address functions as an alias, and creating it lets you reserve the email address for yourself. As soon as rename is available again, you'll be able to use that alias as your primary account name. In the meantime, although you'll need to log in with your current name, you can start using the alias address with the rest of the world. You can send and receive mail at your alias, and also use it as your preferred address for notifications and alerts.
We have learnt that the Microsoft account renaming feature will make a return soon – in a slightly different form. If you've caught the hint in Microsoft Answers response above, yes it will come in the form of "aliases". Currently, when you create an "alias" it is simply an email address for you to receive emails from – you cannot log in with this alias as it is not an actual account. This is no longer the case in the upcoming update – we have learnt exclusively that you will soon be able to sign in with any of your aliases for all devices and services that utilizes Microsoft account.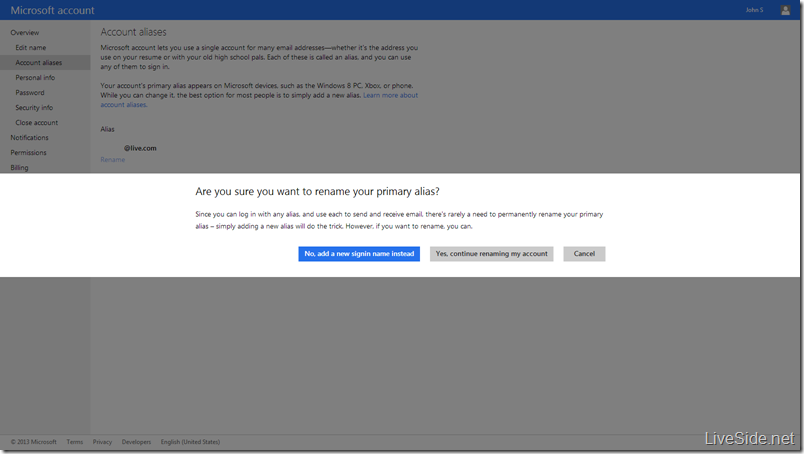 All aliases will use the same password, and you can send and receive email using each of them. Each Microsoft account will allow a maximum of ten aliases, and one of them is designated as your "primary alias". Your "primary alias" is simply used for displaying on your Microsoft devices – such as on Windows 8, Xbox, or Windows Phone. You can change your "primary alias" if you want (although we don't see the need to anymore), and doing so will not affect any of your data associated with the account, and you can still sign in with your old primary alias.
This also resolves one of the biggest complaints about the renaming feature – the need to reset your Windows Phone whenever you decide to rename your account. Because the new "aliases" feature allows you to continue to login using your old email address, adding or changing your "primary alias" should no longer impact the services on your Windows Phone.
We're not sure when this new option will be enabled, as Microsoft indicated that it will be activated when they are "confident that no further issues will arise". But we think this will be great news for those who would like to rename their account but didn't want the hassles associated. What do you think about this upcoming change? Let us know in the comments below!