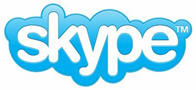 This week, Skype updated its client for Mac and Windows, and if you're using Skype on a Mac, or iOS or Android, you'll be able to make use of a new, beta, feature, Video Messaging.  News of the video messaging service first surfaced when Skype changed it's terms of service and included language describing it last September.  The service will allow you (free for the first 20 messages, after that you'll need to sign up for Skype Premium at $4.99/mo to continue using the feature) to send up to 3 minute videos to other Skype users, and they'll be able to play the videos from their inbox.  The Verge has some hands-on screenshots.
Unfortunately for Windows and Windows Phone users, the ability to play back the videos through the inbox (on Windows, you're provided a link but must click through to view the video) is currently only available for Apple or Android products.  Rumors have been floating around for some time that Skype will introduce a new "Metro style" interface for Skype soon, and it may be possible that a new Metro client will include the new video messaging features, but we'll just have to wait and see.
Along with the video messaging service, Microsoft is moving ahead with its plans to retire Windows Live Messenger, announcing today on the Skype "Big Blog" that users will be forced to upgrade from Messenger to Skype beginning on April 8th:
The upgrade from Messenger to Skype on Windows desktop will start on April 8*. The process will take a few weeks to complete. We'll start the upgrades with our English language clients, and finish up with Brazilian Portuguese on April 30 or later.
Messenger users in China will be excluded from the move, and will be able to continue to use Messenger.  Microsoft had originally announced that Messenger would be shutting down on March 15th, so die hard users will have a few more weeks to move voluntarily.
Finally, as noted by Ars Technica, research from TeleGeography "shows that worldwide Skype usage is now equivalent to over one-third of all international phone traffic—a record level".   Skype has been steadily growing in international voice and video traffic:
The firm's new data, released Wednesday, shows that "international telephone traffic grew 5 percent in 2012, to 490 billion minutes." At the same time, "cross-border Skype-to-Skype voice and video traffic grew 44 percent in 2012, to 167 billion minutes. This increase of nearly 51 billion minutes is more than twice that achieved by all international carriers in the world, combined."
It's interesting that even as smartphone sales continue to rise, the growth rate for annual minutes spent talking on the phone is slowing over traditional carrier-based methods is slowing. At the same time, it is growing rapidly via Skype and services like Viber, Whatsapp, Google Voice, and others.
The transition from Messenger to Skype, and from Skype as an independent startup to one cog in a Microsoft wheel hasn't been as smooth as we would have liked to see, but the future of Skype overall is bright.  We're willing to wait, at least for a bit, for the Skype/Windows/Windows Phone experience to come together.  Hopefully we won't be waiting much longer.