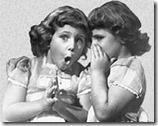 One of Ray Ozzie's favorite sayings is "we don't know what we don't know".  For Microsoft followers, there's a lot we don't know right now, and the plot just keeps thickening.  The latest rumors focus around Microsoft's apparent acquisition of "Enterprise Social Network" company Yammer, which looks like it's just a matter of when it will be announced, and a far more quizzical set of questions about just what exactly Microsoft will be revealing at a last minute press event slated for Monday, in Los Angeles.
While it looks like about the only thing we can be sure this press event is not about is the Yammer acquisition, everyone from The Wall Street Journal to Mary Jo Foley and beyond are chiming in with guesses.  Ina Fried, writing at WSJ's All Things D, seems to think that Microsoft will announce that they're going to produce their own tablets,  while Mary Jo thinks it may be a "Kindle Fire"-type reader, even possibly running on Windows Phone software.
Of course we'll be paying close attention on Monday, if not before, as more information filters out.  For now, Microsoft is not even announcing the location of the event, according to an email invitation posted by TechCrunch:
Additional information regarding the specific venue, address and parking information will be sent via e-mail to registered attendees on Monday morning, June 18th, no later than 10:00 AM.
But of course even without these latest twists and turns, Microsoft has an unusual number of balls up in the air.  We don't recall a time when so much was at stake, with so many questions unanswered.  Here's a quick list of what we're still waiting to hear, in no particular order:
Xbox Music (and Xbox Video, and…):  While Microsoft announced the new music service at E3, we know little about it, how much of the Zune service will survive, what it will cost, and how it will play out worldwide
Bing Maps / Nokia Maps integration:   Today Microsoft announced new traffic data powered by Nokia, but will Bing Maps cease to exist at some point?
Windows Live on Windows 7:  Microsoft is making a big push with Windows 8, Metro style apps, and a future without "Windows Live", but what happens to the hundreds of millions of Windows 7 users out there?  Will Microsoft update Windows Live Essentials for Windows 7 users?  What would such a thing even be called?  Has Microsoft even thought about how to support Windows 7 users going forward, or is it all just a "big bet" on Windows 8?
Messenger, Skype, and Lync:  Microsoft bought Skype for $8.5 billion almost a year ago, and we still don't know how the new service is going to fit in/replace Microsoft's existing messaging clients.  Will Messenger survive?  Should it survive alongside Skype?
Nokia's tailspin: Nokia announced today it will be laying off some 10,000 workers and closing some facilities, and dropped another almost 16% off its stock price.  Microsoft has bet big on Nokia, but will Nokia be able to hold on?  And what will happen to Microsoft, Nokia, and Windows Phone if Nokia continues to flounder?
Windows 8: Microsoft's biggest bet of all is on Windows 8, but what if it fails, as some are predicting?  How will Windows 8 fare this holiday season?  Can it compete with Apple and the iPad?  And can Windows 8 compete without the success of Windows Phone, with which it is joined at the hip?  Microsoft has A LOT riding on Windows 8, but it isn't a sure thing by a long shot.  Will Windows 8 win, or lose?
If Monday's announcement follows suit with the latest from Microsoft from E3 and its other recent announcements, we'll probably have far more questions than answers after Monday, but stay tuned!