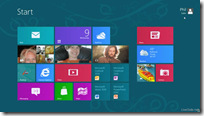 After we uncovered the first screenshots of the updated Mail and Photos apps in the upcoming Windows 8 Release Preview, more details has leaked regarding the changes and improvements coming to the bundled apps – including Mail, Calendar, People and Messaging, Photos, and Reader. Today Paul Thurrott from WinSupersite revealed some additional information regarding these improvements, which we have summarised below:
Photos – Besides the new home screen, the updated version will also allow you to access photos and videos stored PCs that you've connected through the SkyDrive app. In addition, the app will also allow you to quickly import photos and videos from a camera.
Mail – As revealed previously, the new Mail app will feature a new teal accent color (instead of green). Attachments can also now be added to new messages without selecting the body of the message first. The Mail app will also support notifications, much like how the Messaging app's notification works in the Consumer Preview.
Calendar – The Calendar also gets a new purple accent color (instead of green). The new Calendar app will also now allow the ability to turn on or off individual calendars, as well as customise a specific color for each calendar, much like it's Windows Phone counterpart. The Calendar will also support Windows 8's notification system.
People – The People app retains its orange accent color from Consumer Preview, however as mentioned previously, its Live Tile is actually "live" now showing a grid of contact's display pictures much like its Windows Phone counterpart.Perhaps one of the most-improved app out of the ones listed here, the updated People app's What's New module will also feature an improved layout for easier navigation. A highly requested feature – Contact linking – will also be available, allowing you to link contacts if they are not already automatically de-duplicated (possibly due to having different names on different social networks). Furthermore, the People app also now supports the Share contract, allowing you to share information through supported social networking services.
Messaging – The Messaging also gets a new magenta accent color (instead of purple). Not much is revealed, except the fact that the app now supports offline messages to both Facebook Chat and Messenger contacts. There's no mention of file transfer support, or audio/video conversations.
We expect changes coming to other bundled apps too, such as Music, Video, Xbox LIVE Games, and more. Paul Thurrott also mentioned that there will be new bundled Metro-style apps coming in the Release Preview too, in addition to Weather, Finance, and Maps. We understand one of these will be the News app as revealed in previous screenshots. With only 3 weeks to go, we can't wait to see what else is in store. What other improvements would you like to see before the final version ships? Let us know in the comments below.