Just yesterday we posted a screenshot of the new Windows 8 Mail app, expected to be coming as part of the Release Preview in June. Today The Verge discovered links to the web version of the Windows Store for several built-in Windows 8 Metro-style apps, including Mail, Calendar, People and Messaging, Photos, Music, and Reader. All app entries revealed that the apps were updated on May 15 for the upcoming Release Preview, however details of exactly what was changed is unknown.
However, we noticed that the Photos app entry included several updated screenshots, showing a new home screen as shown below: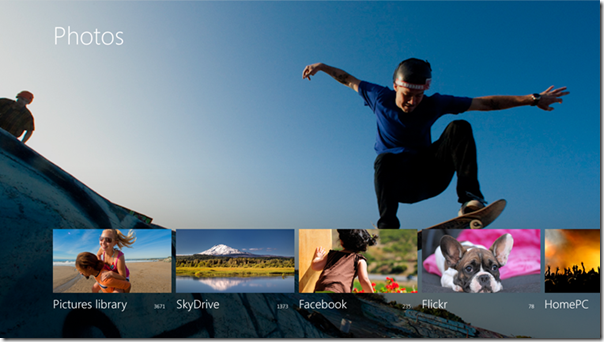 The new home screen now features a panoramic background photo, similar to Windows Phone's Pictures hub, which we believe will be customisable and can be rotated based on your Pictures library. We believe this will also be reflected on the Live Tile for the new Photos app, giving the tile a much more refreshed look.
We also noticed that the Photos app now has a thumbnails view, something we think is missing in the Consumer Preview (edit: thanks to LiveSide reader doctorwhofan98's comments, thumbnails view is in the Consumer Preview):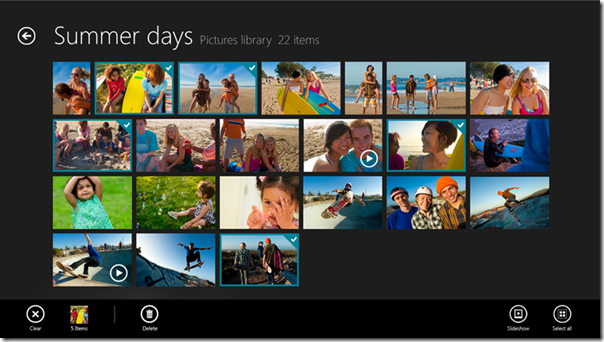 This brings the app closer in line with how SkyDrive displays your photo albums on the web interface, and allows users a much easier view to see all their photos at a glance.
The updated apps are currently under internal testing, and is not available on the Consumer Preview. However, we expect the apps will be made available alongside Windows 8 Release Preview, announced to be coming in the first week of June. It'll be interesting to see what other improvements Microsoft has made to these apps. Stay tuned!