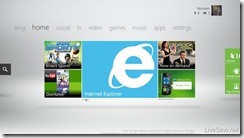 With E3 this year fast approaching in less than a month's time, Microsoft promised to "change living room entertainment forever" and will detail the upcoming Xbox 360 and Kinect capabilities during their E3 Media Briefing on June 4th. Exactly what is coming is currently kept under the hood, but an analyst who was recently invited to Redmond for the E3 pre-briefings said to expect "a lot of dashboard, interface, multimedia" announcements.
Recently details have emerged via The Verge that Microsoft is currently in development of a version of Internet Explorer for its Xbox 360 console. The console-based browser will have integrated Kinect gestures for browsing, as well as voice controls to allow users to quickly search the web via Bing. Below is an excerpt from The Verge:
Microsoft is currently testing a modified version of Internet Explorer 9 on its Xbox 360 console, according to our sources. The Xbox 360 currently includes Bing voice search, but it's limited to media results. Microsoft's new Internet Explorer browser for Xbox will expand on this functionality to open up a full browser for the console. We are told that the browser will let Xbox users surf all parts of the web straight from their living rooms.

Microsoft has also integrated Kinect gestures and voice control heavily into the experience, allowing Xbox owners to quickly search using the existing Bing functionality and pull up relevant web pages. Kinect support is not mandatory according to our sources, but the browser is said to be tuned for Kinect usage.
Whilst we're not expecting any new consoles to be announced during E3 this year from Microsoft, we know we'll be hearing more about Kinect and Halo 4. Rumors have also been floating around of a new music service, codenamed "Woodstock", that apparently will become an Xbox Live replacement for the existing Zune music services.
Stay tuned at LiveSide as we'll bring you the latest from Microsoft's E3 Media Briefing to be held in Los Angeles on Monday June 4th at 10am PDT, to be broadcast live on Spike TV and Xbox Live.
Image Credit: LiveSino.net