We've been getting a number of tips in the past few weeks about new features and new looks showing up on Bing, including the "tile interface" Bing home page (thanks, John):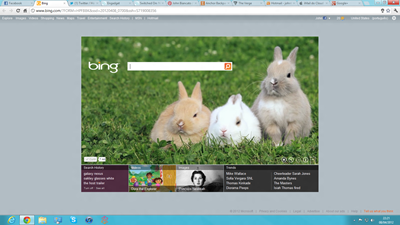 .. and a new, more Metro-y search results page (note the cleaner navigation at the top) (thanks, Theodore):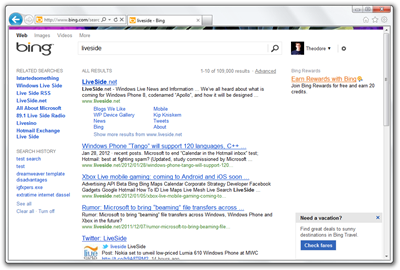 Of course, we've seen both of these looks before, but when we reported them to you they weren't widely accessible.  They still aren't, but they seem to be appearing, and then disappearing again, to different subsets of users (we've had the tiled home page, but it's gone now, for example).
The question is, is this ok for you?  Back in the "old days", we'd have an invite only beta, an opt-in to the latest experiences, and be able to provide feedback, but now it appears that the whole of the Bing user base is one big beta test.  Do we even know what the baseline user experience is, anymore?
Way back in September of 2010, we told you about a coming new Bing experience featuring HTML5, and although we've seen bits and pieces (the video home page, for example), we've yet to see a full rollout of those features, nearly a year and a half later.
Should Bing users be de-facto beta testers?  Are you ok with features that come and go?  Or would you prefer a more stable experience, with perhaps and opt-in to the latest beta tests?