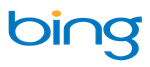 Microsoft quietly released an application called Bing Desktop beta today via the Microsoft Download Center today. At only 1.4 MB in size, this is what the application does, according to the download description:
Bing Desktop delivers the beauty of the Bing homepage to your Windows desktop each day. Plus, get easy access to the Bing search box right from your desktop. Turn your searching into doing with Bing.

Bing Desktop provides an automatic update of the Windows Desktop Background image to the Bing home page image each day. In addition, Bing Desktop offers an easily accessible yet unobstrusive search box to streamline searching without opening the browser.
According to Windows Observer, once the application has been installed the Bing Image of the Day will become the wallpaper for your desktop. In the middle of the screen will be a Bing search box, as shown below:

When not in use, the Bing search box will fade away, so it won't obstruct your already crowded desktop. You can reactivate the search box by hovering your mouse on the top of the screen, or by pressing Windows Key + H.
You can download Bing Desktop beta now over at Microsoft Download Center. Note that the application only supports Windows 7 (it won't allow you to install on Windows 8).