Microsoft China has recently sent out invitations to media outlets for their Windows Phone 7.5 launch event. This will mark the official entrance of Microsoft's Windows Phone operating system into the mainland Chinese market. The event is set to be held in Beijing on March 21st, check out the invitation below: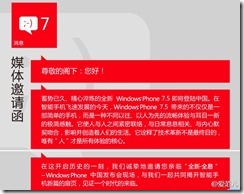 While the launch event is set to be in a week's time, HTC had went ahead to become the first OEM to launch the HTC TITAN (called HTC Triumph in China) in the Chinese market. The device was released yesterday, March 14th, and is said to come pre-loaded with Windows Phone "Tango".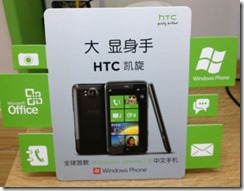 Following the launch event, Nokia's CEO and President Stephen Elop is also set to hold an official launch event on March 28. Elop had announced that Nokia will be launching their Lumia range of devices for the mainland Chinese market during the event. Nokia is expected to launch 3 Lumia devices during the event, however the exact devices are still currently unknown. Rumors have been floating around that Nokia will be launching the Lumia 610S, Lumia 719C, and the Lumia 800C with China Telecom, and the devices are expected to be able to run on the carrier's CDMA2000 network. As at Q4 2011, Nokia owns 16.1% of the Chinese mobile phone market, placing them second just behind Samsung.
Microsoft opened app submissions to Chinese developers back in October 2011, and has recently put up the mainland Chinese version of the Windows Phone marketplace website. However the marketplace itself has not yet opened to Chinese customers on their Windows Phone devices. It is expected that the marketplace will open soon after the launch.