Microsoft's Bing team released the Photosynth app for iOS almost a year ago, and they have long promised to develop the same app for Windows Phone. Despite the promise, the app has yet to surface in the Windows Phone marketplace, nor has it been built into the "Mango" update. However today we received a tip from Rodrigo (from Brazilian website Gemind) who have discovered a set of test panoramas recently uploaded onto the Photosynth website that appears to have been taken with various Windows Phones. An example, taken on a Nokia Lumia 800, is shown below: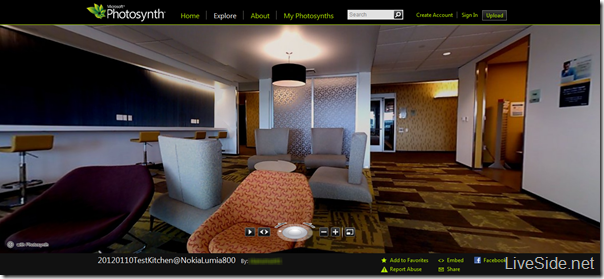 And not only just the Nokia Lumia 800, but test panoramas from other devices such as the Samsung Focus, HTC Radar and HTC HD7 were also found. Gemind also found a synth image on the Photosynth website that showed references to a Photosynth for Windows Phone build: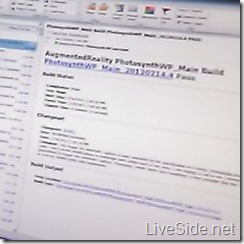 From what we can decipher from the blurry text, the image reads:
AugmentedReality PhotosynthWP_Main Build
PhotosynthWP_Main_20120214.4 Pass
This suggests that Microsoft is still actively developing the Photosynth app for Windows Phone, with a build compiled as recent as last Monday. However, there is still no clue on when this app will be released, and we can only hope it'll be coming "soon" enough.