Back in August last year, we spotted an interesting set of resource icons from Windows Live Wave 5, suggesting that a web-based video chat service might be coming to Windows Live web properties soon. Today in the SkyDrive post on the Building Windows 8 blog, Mike Torres, Program Manager for SkyDrive apps, posted a screenshot of a dogfood (internal testing) version of SkyDrive. On the screenshot, we spotted something different on the top-right corner – the existence of the very video-call icon we spotted ages ago. Check it out below: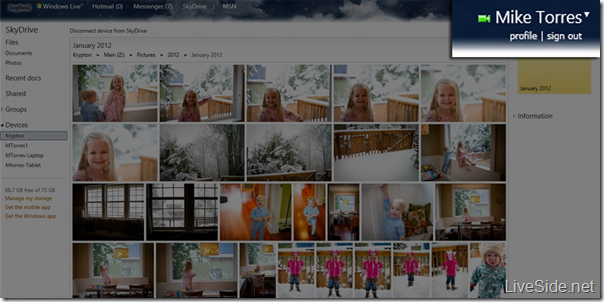 In fact, LiveSide editor Michael Gillett was given the chance to meet the Hotmail UK team last year, and during his visit to the Microsoft UK office, he did spot this icon on the then-new Hotmail (also the internal dogfood version). According to Michael, the user will be required to install an app or plug-in for this to function.
We're not sure whether this is simply the extension of Windows Live Messenger's HD video call functionality into the browser, or if this has anything to do with Skype. Remember that Skype currently provides Facebook its video calling function within Facebook Chat, and given that Facebook Chat is also enabled in Windows Live Messenger, it could well be one and the same.
Oh and doesn't this remind you of the icon in Windows 8's "Call" app?