Microsoft has today announced the release a new app for Apple's iOS platform; MSN UK for iPad. The app is divided into the categories found on the news portal and each one can all be navigated with horizontal swiping allowing users to quickly see the latest news and gossip. The categories are called channels and feature all the MSN UK main sections including MSN Cars and Lifestyle. The app also features many videos and photo galleries bringing much of the exclusive content MSN UK has straight to the iPad.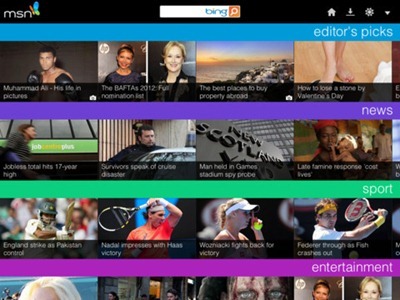 The description of the app states:
The MSN experience is now enhanced on iPad – easily swipe to find your favourite news, sport and entertainment articles and videos. Excited about something you read on MSN for iPad? Just tap and share with your friends on Facebook and Twitter (or e-mail a link to the article).
The app not only allows users to view the latest news but to also use Bing to browse the internet. The Bing search box can always be found at the top of the app and when performing a search it does it within the app making it easier for users to return to what the were previously viewing. Some of the other features of the app include being able to download articles for later reading, in case there is no way to access the internet, and also the ability to easily share content via email, Facebook and Twitter. The app also offers quick access to Hotmail and Windows Live Messenger.
MSN UK have outlined some of the app's features in the video below.
Video: Introducing the brand new MSN iPad app
The MSN team is interested to know what people think of the app and there is a way to provide feedback to the team. Microsoft has noted that they are aware of one slight problem with the app if it downloading content and the iPad lock screen automatically comes up. This can stop the content being downloaded but it wont tell the user that it has stopped downloading. Thankfully though, Microsoft is working on a fix that will be implemented in an upcoming version.