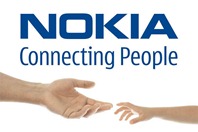 The beginning of a new year is always a hopeful time, and two reports coming out this week are buoying the hopes (and the stock prices) of Nokia and Microsoft.  First up, a report from Reuters that a Nokia handset supplier reported significant December sales numbers:
Compal Communications, a provider of Nokia handsets, said December sales grew 275 percent from a year earlier to NT$4.51 billion ($149 million) from 1.2 billion, according to a Taiwan Stock Exchange website posting.
The news has prompted Credit Suisse to upgrade Nokia's stock from "underperform" to "outperform", amid predictions of more good news for Nokia:
We fundamentally believe that Nokia's focus on Windows will allow the company to drive a recovery through 2012 in both its top-line and earnings," analyst Kulbinder Garcha said in a note.

Pohjola Bank analyst Hannu Rauhala added; "The market has been worrying over Nokia Windows Phone deliveries in the fourth quarter. Compal's strong comments relieve some of these worries."
Reuters notes that Nokia is also coming closer to naming a new Chairman of the Board to replace long time chairman Jorma Ollila, who is stepping down in May.  A Finnish newspaper reported that the board would propose 45 year old Nokia board member and entrepreneur Risto Siilasmaa as its new chairman.
Then in more good news coming from the Taiwan based Market Intelligence & Consulting Institute, who predict that Windows Phones will rise to some 13% of a total of 614 million smartphone units shipped in 2012, bringing Windows Phones in at just under 80 million units sold this year.  That's according to a report from CENS.com (via WMPowerUser.com)
The institute predicts that lower priced smartphones in emerging markets (a point of focus for Nokia) will see strong growth in the coming years:
Currently, the penetration of smartphone subscribers globally is about only 14%, but the rate is expected to grow clearly when budget-priced, or under-US$300 smartphones hit the emerging markets. In 2012, the penetration is estimated to reach 17% and jump to 40% in 2016, MIC said.
Stock prices of both Nokia and Microsoft are up today, with Nokia showing an almost 5% increase on the day's trading so far.