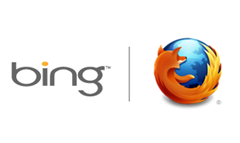 Last year, Mozilla added Bing as a search engine option to Firefox, but today they've gone quite a bit farther, releasing a complete download, Firefox with Bing, available as an option through Mozilla, according to a post on the Bing Search blog (with a url titled "bff.aspx", nice!).
The new offering, which has Bing set as a default option in the search and "awesome" bars, allows Firefox users to have Bing set up as a default without having to change anything, making it easier to use Bing without all the configuration hassles.  If you already have the latest Firefox installed, you can run the Bing Search for Firefox add-in to achieve the same configuration.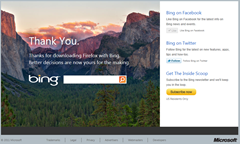 No announcements of any financial deals were disclosed.  Mozilla, a non-profit corporation, has gained most of its revenues in the past 6 years has come from search engine royalties, paid apparently mostly by Google, in a contract arrangement that was renewed in 2008 through the end of this year.  From Wikipedia:
The foundation has an ongoing deal with Google to make Google search the default in the Firefox browser search bar and hence send it search referrals; a Firefox themed Google search site has also been made the default home page of Firefox. A footnote in Mozilla's 2006 financial report states, "Mozilla has a contract with a search engine provider for royalties. The contract originally expired in November 2006, however Google renewed the contract until November 2008 and has now renewed the contract through 2011.[9] Approximately 85% of Mozilla's revenue for 2006 was derived from this contract." This amounts to approximately US$56.8 million.[8]
Since Google has launched its own popular web browser, Chrome, it has been unclear how the relationship with Mozilla would be handled after the end of this year.