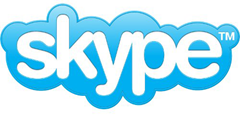 Microsoft has just officially announced that the deal to acquire Skype for $8.5 billion, first announced on May 10, 2011, has closed.  According to the press release:
Skype CEO Tony Bates will assume the title of president of the Skype Division of Microsoft immediately, reporting directly to Ballmer. The Skype division will continue to offer its current products to millions of users globally. Longer term, Skype will also be integrated across an array of Microsoft products to broaden Skype's reach and accelerate its growth as a fundamental way people communicate online. Skype employees will continue to be located around the world in offices including Estonia, the Czech Republic, Russia, Sweden, the United Kingdom, Luxembourg, Japan, Singapore, Hong Kong, and the United States.
New President Tony Bates, in his first official blog post as a part of Microsoft, notes that Skype's mission is to be the communications choice for a billion people every day, and that joining forces with Microsoft "is the best way to accelerate this mission and capitalize on our position at the intersection of social, mobile and video communications":
Microsoft is committed to the ubiquity of the Skype experience – communication across every device and every platform will remain a primary focus. And we've only scratched the surface. We're at the starting line of integrating world-class talent, innovative technologies and products. By bringing together the best of Microsoft and the best of Skype, we'll deliver amazing new experiences for consumers and business around the world.
How Microsoft will integrate, and indeed, how it will eliminate redundancies between Skype, Windows Live Messenger, Lync, and Windows Phone isn't yet clear, nor do we have any answers on how fast Microsoft will move in pulling Skype into Microsoft products.  At least now we can end the waiting game and begin to see what Microsoft and Skype have up their sleeves, and whether the whole thing is worth $8.5 billion.
You can learn a bit more on the Skype page on Microsoft.com