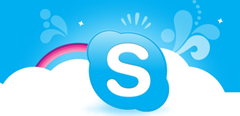 Following US approval of the $8.5 billion deal by Microsoft to acquire Skype, the European Union today announced that it has also approved the deal.  In a press release, Microsoft's General Counsel Brad Smith noted the approval:
We're pleased that the European Commission has approved Microsoft's acquisition of Skype. This is an important milestone, as we've now received clearance from both the United States and the European Union. We look forward to completing soon the final steps needed to close the acquisition, bringing together the employees of Microsoft and Skype, and creating new opportunities for people to communicate and collaborate around the world.
Microsoft CEO Steve Ballmer has said that Skype will become a separate Microsoft division, with former CEO Tony Bates as President.  The deal included all of Skype's technologies, including Qik, a streaming mobile video company that Skype acquired early this year for $121 million.  Skype has also invested heavily in Rdio, but nothing official as to what will happen to that relationship, which could further complicate the already murky Zune situation.
Skype, founded in Finland in 2003, has 663 million registered users as of September 2011, according to Wikipedia, and runs on a peer-to-peer rather than a client-server system.  As Microsoft already has a number of messaging products, including Windows Live Messenger, Lync, and messaging included in Windows Phone 7 and soon to be in Windows 8, it's unclear how both Skype technology and the Skype brand will be integrated.
Now that Skype has run through the gauntlet of US and EU regulatory approval, we can now get to the business of seeing just how Microsoft will change Skype, and if Skype will change Microsoft.