Following the announcement of the new features coming to Hotmail Wave 5 this morning, Microsoft (in conjunction with SEVEN) released the official Windows Live Hotmail app for Android phones in the Android Market. According to the app's entry, key features of the app include:
With push email get messages on your phone without delay
Synced calendar and contacts
View your folders in Hotmail, including sub folders
Send pictures from your phone using Hotmail
Supports multiple Hotmail accounts
Send, receive and view attachments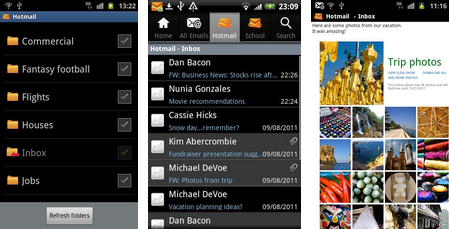 This app follows the official Microsoft-authorized Windows Live Messenger app for Android released by Miyowa earlier in April this year. The app is compatible with all Android devices with version 2.1 or above. You can get it in the Android Market now.