So just over 24 hours ago, Steve Sinofsky took the stage at BUILD and unveiled to the world Microsoft's next version of their operating system, Windows 8. As part of the keynote, Steve invited Chris Jones, Corporate Vice President for Windows Live, to demo some of the upcoming new Metro-styled Windows Live apps coming in Windows 8 (you can check out a short demo here). But in addition to that, Chris Jones also unveiled for the first time the upcoming web-based version of SkyDrive. Of course if you have been following LiveSide for the past few weeks, you would've known some of these new features already. So here we go, the next update for Windows Live SkyDrive Wave 5, complete with screenshots from the keynote:
Devices integration
Just last week we told you about SkyDrive supporting devices integration, allowing you to access files stored on your various cloud-connected devices. Today Chris Jones demonstrated how it works, allowing users to directly access the entire hard drive of their cloud-connected PCs, directly from the SkyDrive web interface. Of course, for those of you who had been using Windows Live Mesh, this is already possible to do so via http://devices.live.com, but this brings it to the next level by presenting it in an easily-accessible and manageable manner, all from the same SkyDrive UI. Check out the screenshot below: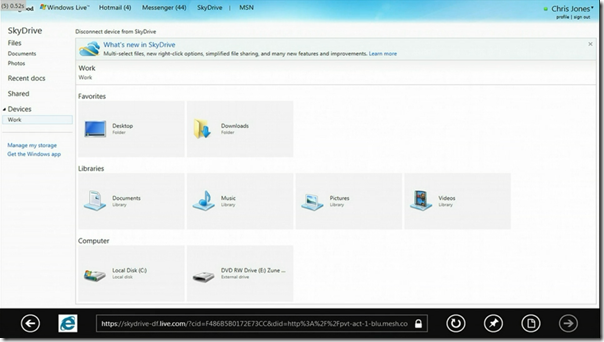 Multiple files selection and right-click options
So we told you about multiple files selection coming to the web-based version of SkyDrive. Today Chris Jone's demo confirms that, as shown below, where you can select check-boxes next to each file and folders to easily manage them all in one go. What's also not shown in the demo, but revealed in the top information bar, is new right-click options similar to Hotmail. Check it out in the screenshot below: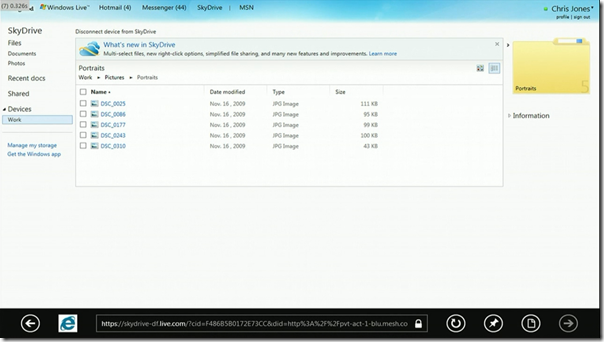 Storage manager and Windows app
For those of you who had used the new SkyDrive interface, you might've noticed one thing missing – the ability to see how much storage you have left on SkyDrive. The new update finally brings back the storage status on the left navigation bar. In addition, you will also find a new "Manage my storage" option directly beneath this, which will take you to the page for you to select or purchase your storage plans.
Also revealed in the left navigation bar is the link to "Get the Windows app". As we've reported earlier, Microsoft is developing apps for not just Windows, but for Windows Phone, iOS, Mac, and Android too. Check out the screenshot below, focussing especially on the left navigation bar: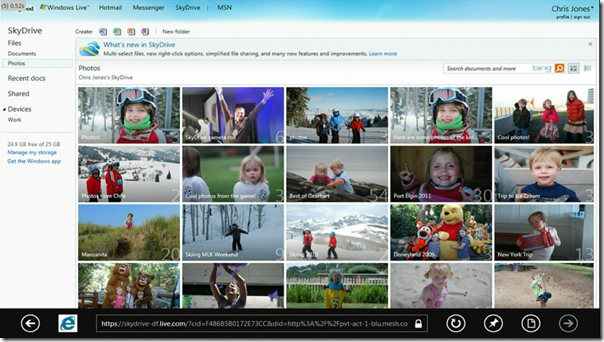 The screenshots above also mentioned new features such as "simplified file sharing", and hinted at "many more new features and improvements" coming in the update. Chris Jones also revealed during the keynote that new SkyDrive APIs will be available as part of "Live Connect", which will please many developers who are wishing to use SkyDrive's cloud storage in their apps. Check out our previous SkyDrive Wave 5 coverage, or check out Microsoft's new preview pages for the SkyDrive app on Winodws 8. Be sure to stay tuned at LiveSide for more news!