Back during the E3 expo this year, Microsoft announced a new Xbox 360 dashboard update will be coming soon, which greatly resembles the "Metro" UI on the Window Phone and Windows 8 Start screen. Today, a YouTube video leaked out (and since removed by Microsoft) (via WinRumors) which shows off some of the new features coming to Xbox 360 later this year. One of which is the mention of Skype integration coming to Xbox 360 via Kinect soon.
According to the YouTube user iTzLuPo, Skype on Xbox 360 will work with Xbox LIVE friends and Xbox parties. This is not the first time we've seen clues about Skype coming to Xbox 360. According to WinRumors, one of Microsoft's recent Xbox Awards survey hinted at the possibility of Skype being integrated into Xbox 360 soon. The survey asked the question "Other than playing games, which of the following activities do you enjoy on Xbox 360?", and curiously, "Using Skype" was one of the choices given: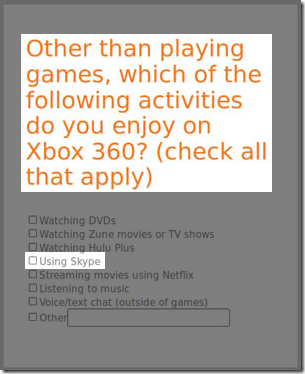 While the deal between Microsoft and Skype has not yet been sealed, this is perhaps the first sign of integration between Skype and Microsoft's technologies. Skype already supports Facebook users, with a "boatload" of new features coming soon. The integration with the Xbox LIVE network would bring another social network into Skype. With the recent spotting of video chat coming to Windows Live Web Messenger, it's definitely interesting to see how Windows Live Messenger, Xbox LIVE, Facebook chat, and Skype will be integrated together.
Furthermore, the new Xbox 360 dashboard screenshot leaks also revealed an interesting option – "Discoverable" setting. According to the description, this setting "allow companion devices to discover your Xbox", as shown below: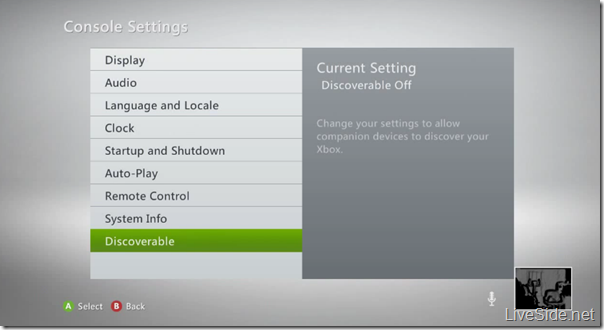 What are these "companion devices"? While it could simply be the new Xbox 360 Wireless Headset with Bluetooth, WinRumors speculates this might have something to do with Windows 8's Xbox integration. WPCentral also suggests that this could be related to Kinect and Windows Phone integration, with the ability to use your phone as a controller, just like the CES demo shown in the video below:
[youtube_video]_yJUONN2gkE[/youtube_video]
What do you think this might be? Whatever it is, the new Xbox 360 dashboard update definitely seems exciting!