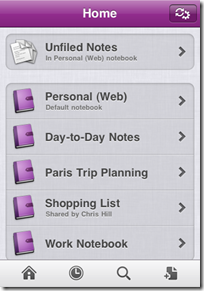 The OneNote team recently updated their OneNote Mobile for iOS app to version 1.2, bringing a slew of new features and improvements over the original version, released back in January this year. According to the official Microsoft OneNote team blog, below are some of the new features of the update:
Search — retrieve important information quickly within text in your notebooks, sections, and pages.
Pin recent notes — keep your favorite notes at the top of the Recently Viewed list.
Sync shared notebooks — sync notebooks that others have shared with you on Windows Live SkyDrive.
Choose which notebooks sync to your phone — save bandwidth by excluding less important notebooks.
Set the image size for photos — choose between faster syncing or higher quality images.
New color scheme — gives the app a lighter look than before
The OneNote Mobile for iOS app is now also available in 5 additional markets – Canada, United Kingdom, Ireland, Australia and New Zealand – in additional to the US. Click on the links below to download OneNote Mobile 1.2 for iOS in your country (links to Apple App Store):
If you have an iPhone, give the app a try (and get a Windows Phone as your next device). Also check out the blog post on the Inside Windows Live blog too.