The day is here – Microsoft is set to officially unveil the first Windows Phone "Mango" device during a press event tomorrow (Wednesday July 27) at 10am Tokyo time in Japan (check your local time here). Together with au KDDI and Toshiba-Fujitsu, Microsoft is expected to unveil the Toshiba-Fujitsu IS12T (TSI12) Windows Phone device to the Japanese market: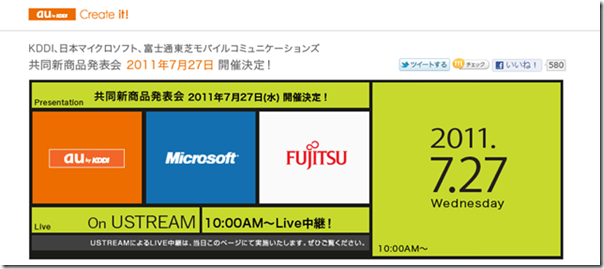 Just two weeks ago, Microsoft briefly showed to the world a glimpse of the new phone during the Worldwide Partner Conference 2011, claiming the phone will be water-resistant. Later, we also reported on a NIKKEI news article which claims that Microsoft is set to release the phone towards the end of August. The phone is expected to have a 3.7-inch LCD screen, Qualcomm MSM8655 chipset, as well as IPX5/IPX7 water-resistance technology. The phone also recently passed FCC and Bluetooth clearance, showing that the phone will support GSM900/1800/1900 and CDMA2000 networks.
According to the official au by KDDI website, the press event will also be streamed live online on Ustream, which has been embedded below:
Further, with a little digging around by Nanapho.jp (via WPCentral), a teaser picture of the new device has been uncovered, together with a link to the potential demo video (it's not up yet) of the new phone equipped with Windows Phone "Mango". The teaser image shows a yellow device being demoed, and given that we've seen the pink version during WPC11 a few weeks ago, it is expected there will be multiple color variations of the new device. Check out the teaser image below: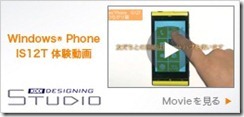 According to an official Microsoft Showcase video from Japan (again via Nanapho.jp!), it is also expected that several new apps dedicated to the Japanese market will be launched along with the new Windows Phone "Mango" devices. The apps showcased includes mixi, Japan's largest social network; Hot Pepper, a discount coupon service for restaurants and shops in Japan; as well as transport/navigation apps NAVITIME and Jorudan.
Be sure to check back here tomorrow at 10am Tokyo time (check your local time here) to watch the press event live!
(Thanks Nanapho.jp for the news!)