So out of the three main pillars of Windows Live – Hotmail, Messenger and SkyDrive – we've briefly touched on the future of the Hotmail and SkyDrive over the past few weeks, and today details leaked from the pre-beta M3 build of Windows 8 reveals something that might become the future of Messenger.
NaiveUser on MyDigitalLife Forums (via WinRumors.com) has once again digged up some resources from the leaked Windows 8 builds. Today he revealed something called a "Chatter" service from the ConsentUX.dll file:
100,Do you want to allow %1 to use your %2 ?
101,CapabilityName
102,DisplayName

1600,Block
1601,Do you want to you allow Chatter to use your video ?
1602,Allow
1603,Always Allow
While we're not entirely sure exactly what "Chatter" is (it could just be a codename), we know it's definitely related to video communications. Manan from Beingmanan.com suggests that this might be a sign of an unified communication service in Windows 8, bringing Microsoft's Skype, Messenger, or even Lync and other third-party communication services like Facebook Chat into one place. He also noticed two new notification icons in the Windows 8's lock-screen as demoed during the D9 conference: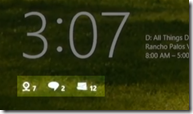 Windows Phone 7 users should be quite familiar with the Hotmail icon on the right, showing the number of unread email messages from Hotmail. However, the two icons on the left brings us particular attention, especially in relation to how Windows Live Messenger might work in Windows 8:
Messenger Social: The first notification icon on the lock-screen, with the number "7" next to it, seems to correspond to a "Messenger Social" tile on the Start Screen (as shown in the screenshot on the right), with the "7" possibly indicating the number of new social notifications from Windows Live, Facebook and others. We're guessing this might be similar to how the Social pane works in the current Windows Live Messenger 2011.
Text/Voice/Video Messaging: The second notification icon, with the number "2" next to it, seems to correspond to the "Messaging" tile on the Start Screen (as shown in the screenshot on the right), with the "2" possibly indicating the number of unread IMs or open conversations. If we assume that this "Messaging" tile works similar to Windows Phone "Mango"'s Messaging hub, minus SMSs (since you don't usually SMS using your PCs or tablets), could this be where the future of Messenger will sit? Will this be what "Chatter" really is? Will this be integrated with other communication services, such as Skype, Facebook Chat, and others?
We're interested to know what you think this new "Chatter" service is, and how you think it will work in Windows 8. Leave us a comment below!