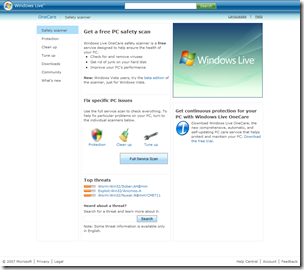 Back in November 2008, Microsoft discontinued their subscription-based anti-virus software Windows Live OneCare and replaced it with the free Microsoft Security Essentials tool. However, one of it's closely related product – Windows Live OneCare Safety Scanner, an online anti-malware scanning, PC clean-up, and diagnosis tool, was never discontinued and always remained available at http://safety.live.com until this date. In fact, a Microsoft spokesperson told Ars Technica back in 2009 that they "have no plans [at that time] to discontinue support of the Windows Live OneCare Safety Scanner … and will assess how to evolve the Windows Live OneCare Safety Scanner as we get closer to the OneCare end-of-life."
It's worth mentioning that the tool only supported Windows XP at that time. Although a beta version was made for Windows Vista, it never made it to final release. The tool was also continued to be made available in Windows Live Messenger up until Wave 4 for scanning viruses and malwares from file transfers.
Fast-forward three years later, Microsoft has finally decided to discontinue this product and replace it with Microsoft Safety Scanner. This tool has now been updated to support Windows 7, but will no longer perform tasks like PC clean-up and diagnosis. Here's Microsoft's description of this new tool:
The Microsoft Safety Scanner is a free downloadable security tool that provides on-demand scanning and helps remove viruses, spyware, and other malicious software. It works with your existing antivirus software.

Note: The Microsoft Safety Scanner expires 10 days after being downloaded. To rerun a scan with the latest anti-malware definitions, download and run the Microsoft Safety Scanner again.

The Microsoft Safety Scanner is not a replacement for using an antivirus software program that provides ongoing protection.
We're not sure why anyone would want to download this tool, given that Microsoft's actual anti-virus offering, Microsoft Security Essentials, is far more superior and provides better real-time protection. Nevertheless, it's been long enough for Microsoft to discontinue this service, and to be honest, we not sad to see it go. So there it is, another one joining the deadpool. We wonder what's left?