Recently, our friends Rafael Rivera and Paul Thurrott have been hard at work bringing us secrets from the early pre-beta builds of Windows 8, believed to have been released to a handful of OEMs and partners on Microsoft Connect just last week. Today they brought us early screenshots of Windows Explorer in Windows 8, in particular the new "ribbon" interface that had been implemented in most Windows Live Essentials applications: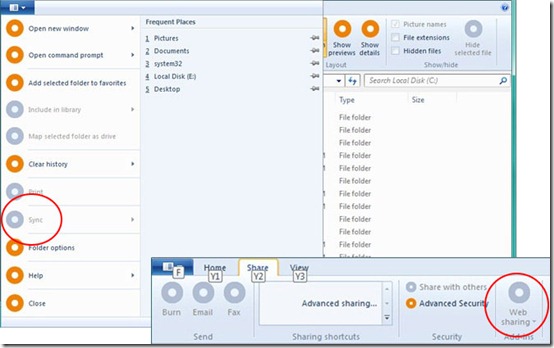 While still in its infancy stage (with most icons being the orange circular placeholders), our friend Long Zheng spotted something quite interesting – there is now a "Sync" and "Web sharing" menu options within Windows Explorer (circled red above), built right into the Windows 8 operating system.
We reported earlier that Windows 8 will have Windows Live ID built-in, and seeing these new "Sync" and "Web sharing" options in Explorer definitely leads us to think that this is somewhat related to Windows Live Mesh (for sync) and Windows Live SkyDrive (for web sharing). With the Windows Live team falling under the "Windows and Windows Live Division", there definitely seems to be some sort of convergence between the two in their next releases.
On the topic of SkyDrive, we hear that Wave 5 will have an overhaul of its web interface, making it easier for users to manage and search for files and folders stored in the cloud. Of course, as always stay tuned at LiveSide as we bring you the latest news in relation to Windows Live Wave 5!