Today at a session at the Web 2.0 Expo here in San Francisco, Dharmesh Mehta is taking the stage to show off Hotmail's expansion of ActiveViews, its in-the-web-client solution bringing live interactive JavaScript directly into emails from participating partners.
We already told you about ActiveViews and Microsoft's initial partner, Monster.com, and expanded to include partners like FedEx with ActiveViews for package tracking.  Hotmail has already served up 1 billion ActiveViews emails.  Today Microsoft is announcing new partnerships, and Linked-In, Living Social, Posterous.com, which went live today, and Netflix among others are set to bring live updates directly into your emails.
I had a chance to talk to Senior Product Manager for Hotmail Dan Lewis about ActiveViews last week, as he showed off some prototypes of ActiveViews at work.  Using an SDK and a set of API's to build basically two sets of email messages, one with full static HTML, and a second, for Hotmail users, ActiveView partners are able to run sandboxed JavaScript directly within a Hotmail email message.  Here are a few quick screenshots to see how that works:
This email from Posterous.com, which you would get after subscribing to email updates from a Posterous blog, shows the static content you would receive in any email message: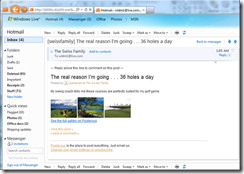 … but with an ActiveViews email, with content pulled directly from the partner servers, you not only get a static shot of the post, but can read up to date comments, and even comment on your own, directly from within the email: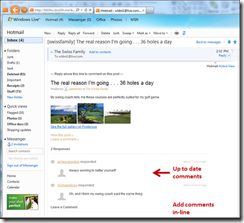 Note that these emails come directly to you, and can't be forwarded with the ActiveView content intact, a security measure.
Lewis explained that while ActiveViews is at this time proprietary to Hotmail, they've had a lot of interest in this "future of web mail" direction, and are exploring expansion beyond the current constrictions (these same emails would not provide the live content when opened in Windows Live Mail or Outlook, for example).
We'll have more in depth on ActiveViews in a bit.