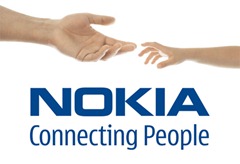 Businessweek is reporting today a few more details on the as-yet-to-be-signed agreement between Nokia and Microsoft in a switch from Nokia's internal mobile operating systems (Symbian and MeeGo) to Windows Phone for its smartphone operating systems.
The deal, according to two unnamed sources cited in the report, has Microsoft paying Nokia more than $1 billion to "promote and develop" Windows Phones.
In return, Nokia will pay Microsoft a fee for each copy of the Windows Phone operating systems, for a period of "more than five years".
Nokia's royalty payments will help Redmond, Washington- based Microsoft make a profit on the accord even after the payments to Nokia, one person said. Some of the payment to Nokia would be made before the company starts selling the phones, meaning Microsoft bears some upfront cost in the partnership.
Nokia chose Microsoft's Windows Phone over Google's Android or staying the course with their own operating systems, a course new Nokia CEO Stephen Elop likened to "standing on a burning platform":
The agreement for the more than billion-dollar payment was part of a campaign by Microsoft to keep Nokia from choosing Google's Android operating system, one of the people said. Nokia also opted for Microsoft because Windows Phone software, which is newer than Android and has a smaller number of handsets for sale, gives Nokia a better chance to stand out, one of the people said.

The agreement also has Microsoft paying Nokia for the right to use its patent portfolio, one of the people said.

As part of the deal, Microsoft will use Nokia's Navteq mapping products for functions such as geolocation services and selling local advertising and coupons tied to a user's position. If successful, that also could generate additional revenue for Nokia, which will share in the sales.
Still no word on when the agreement will be signed, or when if we will start seeing Nokia Windows Phones this year, as Nokia hinted at MWC.