Microsoft silently updated their Windows Live Solution Center website today to have a more consistent look with their Windows Live properties. While not exactly adopting the "Wave 4" header used on the Windows Live web properties, it definitely uses the same background image to make it seem more closely related to Windows Live than the old white look. Take a look of the new Windows Live Solution Center below: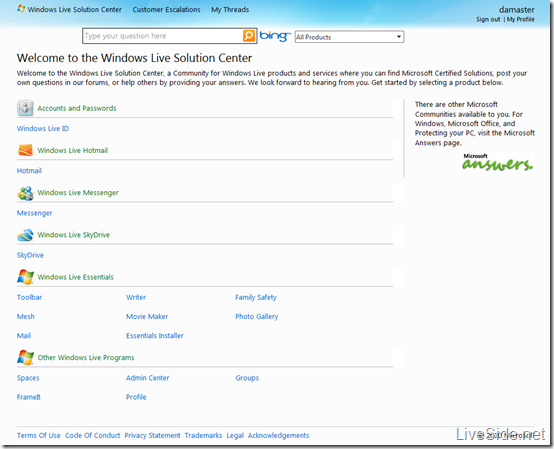 As you can see, the topics/services has also been re-organised to fit under the "four pillars of Windows Live": Hotmail, Messenger, SkyDrive and Essentials. Interestingly, while the now-discontinued services like Spaces and FrameIt are categorised under "Other", social-oriented services like Groups and Profile are curiously grouped under this category too.
The functionality of Windows Live Solution Center has not been changed as part of this update, however, once you're logged in with your Windows Live ID, it is now much easier to access specific threads that had been raised or contributed by you by clicking on "Customer Escalation" and "My Threads" in the header.
Now we wonder when Windows Live Admin Center, the only still-active Windows Live web service, will ever upgrade to the latest Wave 4 header?